How to Use Halloween to See Spookily-Good Restaurant Sales

Matt Thompson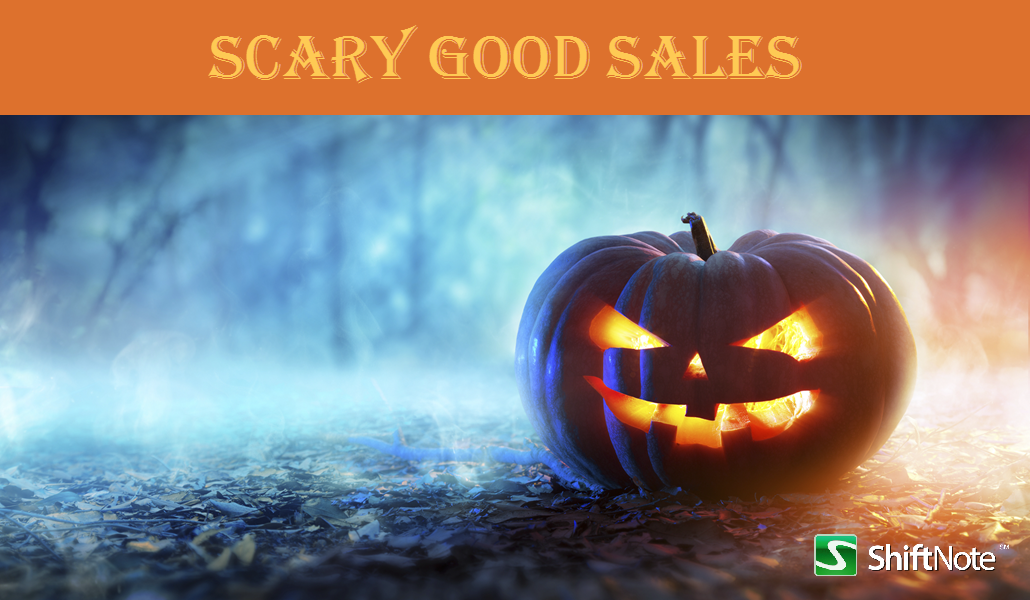 Halloween is one of the most fun holidays throughout the year. People are looking for the best place to go where they can dress up, spend time with friends, and enjoy great drinks and eats. When you celebrate Halloween as a restaurant, you can take advantage of an excellent opportunity to increase restaurant sales. There are a few ways you can make your restaurant THE place to be on Halloween and see some spookily-good restaurant sales.
Plan the Spooky Atmosphere of Your Restaurant
If you are going to host a Halloween extravaganza with the goal of increasing restaurant sales, you should capture the spooky feeling of the season. You can go campy and fun with your decor and menu items or you can go for the scare factor. This depends on if you have a family restaurant or if you are more in the adults-only criteria. Some ideas to make your restaurant a little spookier include:
Dusting off decorations. Add the classic Halloween images of cobwebs, spiders, pumpkins, witches, vampires, bats, and more.
Set the mood. Turn down the lights and spring for a professional lighting company to down-light your restaurant with purples, blues, blacks, and oranges. Creating shadows with lighting or fake lightening effects will amp up the Halloween mood. Adding a little smoke effect across the ground with dry ice blocks will also help with the mood.
Get a spook-tastic DJ. The music in your restaurant should include some popular songs as well as some Halloween-themed treats, like Monster Mash.
Incentivize employees to dress up. Some employees may be reluctant to come to work in costume, but you can make the night fun by holding an employee-only costume contest with gift cards for the winners. Having them excited about the holiday will infect the customers with the same Halloween fever. Encourage social media and have fun with it.
Hold a Costume Contest
In addition to encouraging employees to dress up via a costume contest, you should also hold a contest for the patrons of your restaurant. Holding a fun costume contest will encourage more people to choose your establishment over others, giving you more opportunities to increase restaurant sales. While many establishments will be holding contests that night, you should make yours stand out from the competition. You can have the usual categories like Best Costume and Best Dressed Couple, but you should also get creative! For example, there are going to be a lot of Harley Quinn's roaming the streets this year, so you can hold a category for the Best Dressed Harley Quinn.
In addition to creative categories that encourages people to enter, you also want to offer some great prizes to the winners of each category. You can provide hefty gift cards to your restaurant, tickets to your local football team's upcoming game, or prize baskets for multiple places around town. You can reach out to fellow businesses to donate prizes for the contest in exchange for the opportunity to sponsor your event.
Create Awesome Recipes and Drink Specials
Part of what will increase restaurant sales is offering limited time holiday-themed food and drink items. Getting creative and going all out on the Halloween theme will create some must-have cocktails and dishes that people will be dying to try. Even when you offer a drink special for the night, like $2 well drinks, creating enticing cocktails paired with scary-good limited time appetizers will encourage people to indulge. (recipes below)
Plan Advertising to Increase Opportunity for Restaurant Sales
In order to make money you have to spend money. Set a budget to gather the items you will need to throw your Halloween bash and to adequately advertise the event. Decide if you want to create flyers, run social media ads, or pay for local billboard advertising and then budget your costs for these efforts. Remember that if no one knows about your Halloween party, you will not get the full opportunity to increase restaurant sales.
**********************
To help inspire your Halloween party planning, here are some scarily delicious Halloween drinks you can offer.
The Vampire
Ingredients:
2 oz Vodka
2 oz Cranberry Juice (or similar red fruit juice)
Splash of Ginger Ale
1 TBLS of Dry Ice
Maraschino Cherry for garnish
Steps:
Combine vodka, cranberry juice, and ginger ale
Add dry ice and wait until the dry ice has melted completely before serving.
Add maraschino cherry for garnish. You can either spear it on a sword and place it across the top or go the extra mile with plastic vampire fangs with a cherry staked on the fangs.
Devil's Night Bonfire
Ingredients:
6 oz Hard Cider
1 oz Fireball
2 oz Ginger Ale
1 TBLS of Dry Ice
Steps:
Combine hard cider, fireball, and ginger ale.
Drop in dry ice and wait until it is completely melted before serving.
Witch's Brew - Makes 6 Drinks
Ingredients:
6 oz lime jello
1 ½ cup pineapple juice, chilled
1 cup vodka
16 oz Sprite, chilled
Steps:
Prepare lime jello as usual per package instructions. Break up jello into pieces small enough to suck through a straw.
Add crushed jello to a large pitcher or Halloween-themed cauldron.
Add pineapple juice and vodka to lime jello pieces and stir to combine.
When ready to serve, pour Sprite from a high distance to create extra fizz until pitcher/cauldron is full.
Like this Blog? Check out more blogs just like this one at ShiftNote!