On Tuesday, January 14th, 2014, we will be releasing an updated version of our employee scheduling tool to all users. Over the past year, we've met with hundreds of customers to see how they use the existing tools and have listened to amazing feedback on changes we needed to make in order to debut a scheduler that is faster, easier and more feature rich. These changes have been compiled together to complete the ShiftNote Scheduler version 2.0 and are listed below.
Areas are going away
We've removed the Area grouping so that when you create a schedule, you can add any employee you want. This also means that when you are creating a schedule, only those employees that are assigned shifts will show up on the schedule. This will help consolidate schedules, and make them easier to view.
Less restrictions on Time Periods
We've moved the restrictions on Time Periods, so now they merely act as a label. You can assign as many shifts as you want to an employee during the same time period. You can also have as many Time Periods as you want without slowing down the system or messing up the schedule view. Time Periods can be set as shift segments, so it's faster to assign needed shifts.
Add/Edit shift page addition
We've removed the ability to click into a specific time period cell to add a shift, and instead added an Add/Edit shift separate page. This is probably the biggest change of the Scheduler 2.0, but one that will dramatically improve the ease and speed of creating a new schedule.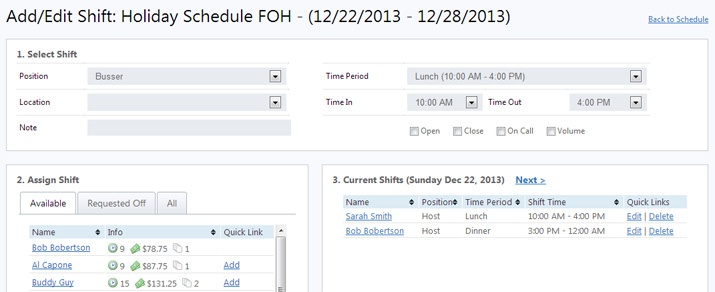 View by Position
We removed the Day view of the schedule and introduced a new by Position view. The Position view will make it easier to make sure that you have all bases covered and have your aces in their places.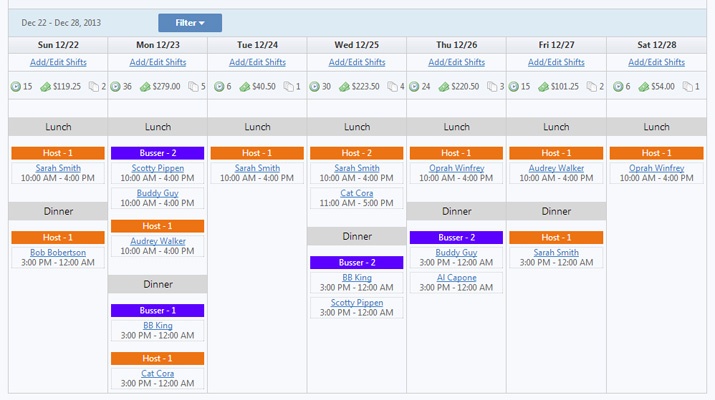 Shift Overview
More detail has been added to the shift overview popups. You will be able to see existing shifts assigned, availability, time off requests, and a general overview of the employee. You will also be able to make edits to the assigned shift from the overview popup.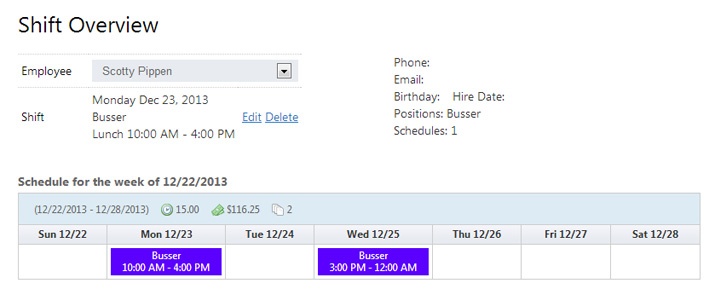 No more drag and drop templates
The drag and drop functionality of scheduling using a template will be no more. Instead, template shifts will be integrated into the schedule, and you simply have to click the shift to assign it, or use the Add/Edit shift page.

In order to help with a smooth transition to these new changes, we've scheduled a few free group webinars, open to all, to show a more comprehensive look at the changes and how they will affect you.
Tuesday, January 07, 2014 3:30 PM-4:00 PM CST (Attend Webinar)
Thursday, January 09, 2014 10:00 AM-10:30 AM CST (Attend Webinar)
Our support team will also be reaching out to existing scheduler users to go over the updates, and all are welcome to schedule a free one-on-one demonstration at any time by reaching out to the support team.
We're very excited to launch the ShiftNote Scheduler 2.0 so that we can continue our mission of making the lives of managers and employees alike much easier!