Are you a current user of our employee scheduling software? If so, we've got new features!
New to our scheduling notification options, is the option to be alerted via text message about shift changes or pending shift requests. Previously employees were notified via email about open shifts, approved or denied requests, and schedule changes. Now they have the option to
also be notified via text message. Managers can also receive notifications via text message when there is a shift request pending.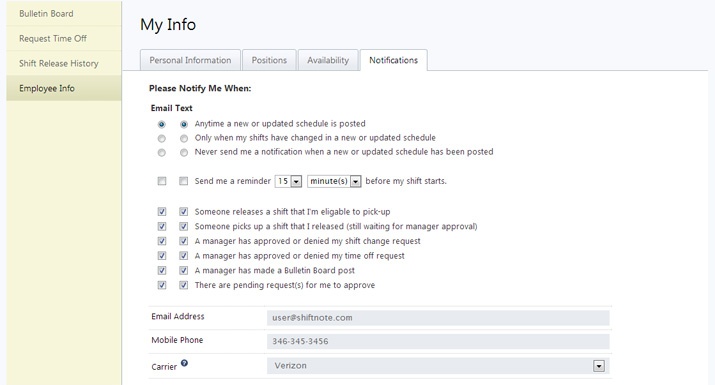 To setup the text notifications, log into your ShiftNote account, select the Board icon in the top menu, click the Employee Info link in the left hand menu, and then click the Notifications tab. You can choose to be notified by email, text message, or both for different schedule related instances. In order for the text message alerting to work, you must enter your mobile number and carrier. If your carrier is not listed, please contact us and we will make sure to get it added.
Managers can set this up for their employees as well by going to the Schedules icon, the Employees section, and clicking on the edit link next to the employee. Then click the notifications tab and proceed the same as above.
Notification options can be changed at any time.