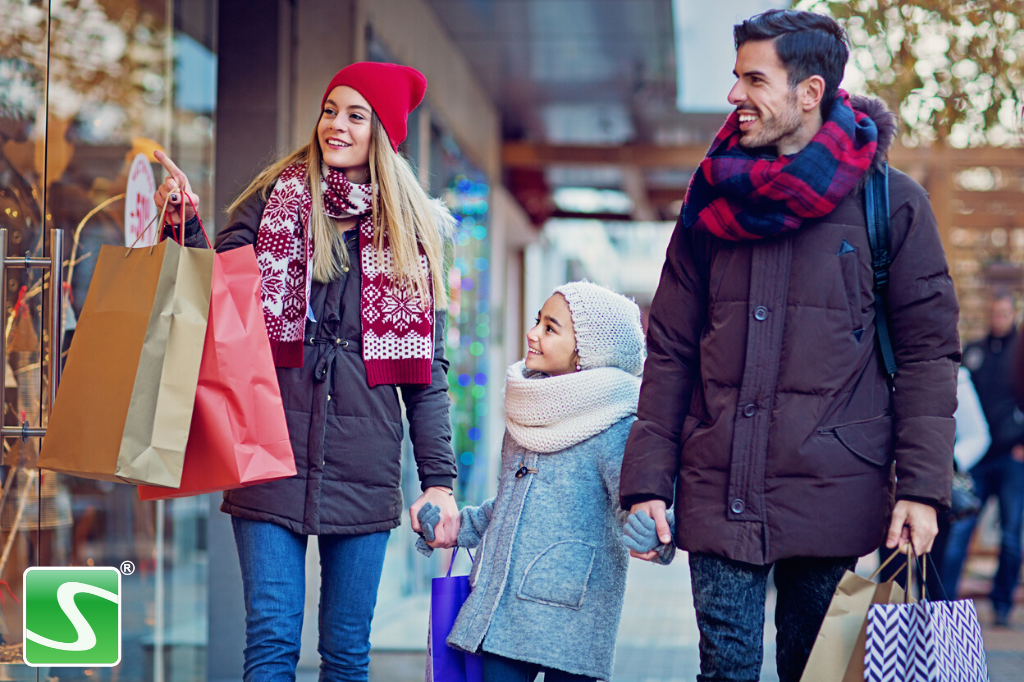 'Tis the season to.... draw in more customers! The holidays are fast approaching, they're basically already here. The holiday season is naturally a busy season, so why not jump on the opportunity to draw more customers in and blow your sales goals through the roof? Not having any holiday promotions is like giving up before even trying. We don't want that! Here are 10 holiday marketing ideas for restaurants and retailers to bring in more sales.
1. In a digital world, paper stands out
The world has gone digital, which means everyone is being flooded with emails about holiday promotions. How do you cut through the noise and stand out? Make your own holiday cards! Send them to neighbors, local businesses, and hand them out to customers. Remind them why your restaurant or store is the best place to go over the holiday season. If you're having any holiday promotions or offers (which you should), include them on your holiday cards. Having festive music and going all out with decorations? Let people know your business is the place to be! Sending out customized holiday cards makes your customers feel more like family and will result in repeat business and customer loyalty.


2. Reward top customers
Do you have tried and true loyal customers that come in every week or month? Or have been customers for years? Reward your most loyal customers with deeper sales and savings, extra perks, or let them book time at your business outside of regular hours so they have a truly personalized experience. Whether you're a restaurant or a retailer, rewarding your top customers is important to bring them back in during the holiday season!


3. Host a kid friendly event
During the holiday season, parents are on the lookout for events to take their kids to. Hosting a free event with holiday festivities is a sure fire way to bring more customers in the door. You could have a coloring contest, cookie decorating contest, photo booths, pictures with Santa, pin the tail on the reindeer, a kid's book reading - the options are endless! Whatever you decide, make it easy for parents to have a meal together (restaurants) or do some shopping (retailers) while the kids are entertained.


4. Take advantage of holiday traditions
There are so many holiday traditions to capitalize on if you're a restaurant or retailer. Instead of "12 Days of Christmas", you could have twelve days of sales. Or release 12 holiday menu items a day at a time. Be festive and have fun with it to provide your customers with the ultimate holiday experience!


5. Use your email list
Do you have an email list for newsletters and promotions? Take advantage of it and email your customers about holiday happenings in your business! If you're a restaurant, email customers and see if they'd like to make a reservation. If you're a retailer, email customers and invite them in for a special day of shopping (maybe provide some drinks and festive snacks in your store to make it a little event). Whatever you do - thank your loyal customers and provide an incentive for them to come back and visit during the holidays.


6. Have a holiday event
Hosting a holiday themed event is a great way to bring in more customers and give them a unique and festive experience. Some event ideas for restaurants would be a brunch with Santa, or reservation only 4 course meal, or a party on Christmas Eve or New Year's Eve. Some event ideas for retailers would be a holiday sale, pictures with Santa, or a holiday party with drinks and festive snacks. Whatever it is - be festive and let customers experience holiday fun with your business!


7. Promote private parties
This one is mainly for restaurants to take advantage of group dining. If you have a separate dining room or event space, capitalize on the opportunity and market the area as a holiday event space for large family get-togethers, corporate events, and private holiday parties. So many people could benefit from booking an event with you, so make sure you promote your event space throughout your restaurant, advertise on social media, and send emails out if possible. Remember to decorate your space to be a festive and fun holiday haven!


8. Giveback to your community
Another important thing to remember around the holidays is the importance of giving back. Think about ways your business can help the community. Maybe offer a discount when customers bring in a non-perishable food item to be donated to a food bank. Organize a charity fundraiser for a local non profit - giving back a percentage of your sales. Both of these ideas work for restaurants and retailers, and are a great way to give back during the holidays and raise your reputation to customers!


9. Offer special gift card packages
Name one person who doesn't like gift cards. You can't. Because everyone loves them. They're especially helpful during the busy holiday gift giving season! To sell more gift cards, make a package out of it and offer an additional gift card with every gift card purchase. Common gift card deals are: get $10 when you buy a $50 gift card, or $25 when you buy a $100 gift card. The customer is basically getting free money! Which they can give away as a gift or keep for themselves.
Make sure to set up a holiday inspired display area at the entrance of your restaurant or store so it's easy for customers to stop and shop! Package the gift cards in little boxes with bows to make things even more festive and appealing. Don't forget to promote these deals as limited time, for the holidays only, so customers know they need to act fast!


10. Create a holiday-themed experience
For restaurants - feature special holiday drinks, dishes, or desserts. Incorporate holiday classics like gingerbread, eggnog, Christmas cake, mulled wine, cinnamon, and home cooked favorites. After you make a little holiday menu or at least a few menu items - promote them as limited time options for the holidays only. Post about them on social media and have special signage around your restaurant. Guests love a seasonal menu and will come in just to try it out!
For retailers - change your mannequins to fun and festive holiday outfits. Make sure to put all your holiday things on front display and make it easy for customers to shop! Be ready for the customer that comes in looking for Christmas gift ideas and the customer that comes in needing a New Year's outfit. Having little holiday themed sections throughout your store make it easier to shop and makes your business feel more festive! Have a special sale for holiday items only - like buy two, get one free. Customers will start filing in right away to prepare for the season.


Remember, not having holiday marketing campaigns is like giving up before even trying. The holidays are such a busy season already, why not rise above your forecasted goals by simply trying out a few holiday marketing ideas? Get your festive face on and make your restaurant or store a holiday themed success this year!