It's always a good time to freshen your promotional strategy, especially as only 50% of restaurant and hospitality businesses survive within the first five years. While it's certainly possible to overcome this scary statistic, owning and operating a business does come with a certain level of risk.
The key to success is offering delicious food, maintaining efficient workforce, developing systems, having good management in place, innovating, AND using innovative restaurant marketing ideas, especially online.
It's hard to stay on the pulse of the go-to restaurant marketing strategies, so we've got a few tips to offer some inspiration. Read these five restaurant marketing ideas below and start putting them into action in your business today!
1 - Get Mobile
Did you know more people now access websites via mobile devices versus a desktop computer? That's right -- more than half of people search for your business via smartphone or handheld devices.
What does this mean for your business? Ensure your restaurant website is built on a responsive platform and can be viewed easily on mobile devices.
Responsive = Websites that are developed to adapt to all screen sizes, like a desktop or laptop computer, tablet, and any brand of smartphone. A responsive site also uses the same domain for both the mobile site and the desktop site; this makes the search engines happy.
Most content management systems (like Wordpress, Squarespace, and Hubspot) have responsive website templates, so they automatically will translate your website across any device, yet others do not, so make sure this is not the case!
Most people today review menus via mobile device before they visit your restaurant, so it's a missed opportunity if you do not have a mobile-friendly website. Make sure your menu and location/contact page is viewable on all types of devices.
2 - Tap Into Emerging Social Media Channels
Snapchat and Instagram, and other highly visual social media channels can be a huge asset for your restaurant business.
Snapchat has more than 300 million monthly active users and growing, and reaches 41% of 18 to 34 year-olds in the United States. Instagram reaches 600 million monthly active users.
These channels are not one in the same. While they serve a similar purpose of sharing and distributing images and videos, they work in different ways. Instagram can be used to display mouth-watering food pictures. Snap pics of your most delicious looking entree or dessert, filter or edit it, then add a caption and hashtags. You can also host user-generated Instagram photos or feature your chef. (Check out more Instagram restaurant tips here.)
(Tip: Did you know there are 1 million+ #foodporn posts on Instagram?)
Snapchat can be used to upload pictures and videos, add text to them, and send them.
Once viewers open a Snap, they have a limited time to view it before it deletes. Food brands like Taco Bell, Cheesecake Factory, and Papa Johns have capitalized on this channel to reach Millennials.
Instagram and Snapchat are cost-effective ways to advertise your restaurant business. Tapping into these channels allows you to reach and engage new potential restaurant patrons. To learn more about creating your own personal social media marketing plan check out this blog from ezcater.com.
3 - Optimize Your Presence on Location-Based Sites
Did you know 89% of consumers research a restaurant online prior to dining? Because so many consumers are searching for restaurants prior to even opening your door, it's critical to optimize location-based review sites like Google My Business and Yelp.
Yelp is a huge driver of business in the restaurant industry, so it's important to maintain as much detail as you can on your restaurant's page. Include the following information:
Hours
Location
Menu
Additional features: Wi-Fi / accessibility / takeout / parking
Pictures, pictures, pictures
Similar to Yelp, your business' Google page will drive online inquiries into your restaurant. Google My Business feeds the map information you see on Google. When searching for a restaurant genre, for example, a map typically appears on the first page of the search result, like so: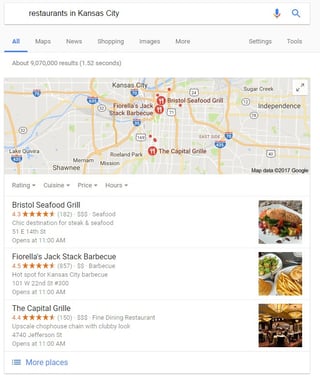 4 - Snap Some Food Porn Pics
Pictures are not one in the same. A good food or restaurant picture conveys quality, decadence, and taste through color, texture, and detail. Invest in a good photographer to take high-resolution photographs of your food and drinks to wow potential and current clients. The photographs can be multi-purposed -- keep them in your back pocket for social media posts, brochures, and even your menu. Show people what your restaurant is really made of!
5 - Identify and Use Social Influencers
Today's influencers, or those who carry clout and influence in the food industry, come in many forms these days. When once the restaurant critic was the ultimate influencer, social media broadened the archetype. Food bloggers, social media stars, and the old-school reporter can work to generate positive word-of-mouth for your restaurant business.
So, how do you tap into them to improve your restaurant marketing? Invite local food reporters, bloggers, and social media stars to eat at you establishment for free. (Or give them an incentive to come in.)
Forewarn your staff of their arrival and tell them to serve a table full of your restaurant's best fare. Treat them like royalty. If they have a good experience they will be more likely to share their experience to their network.
Remember: you do not have to use every strategy listed above to rev up your business. Select a few restaurant marketing ideas that make sense to start, see how they move the dial on your business, then plan accordingly.