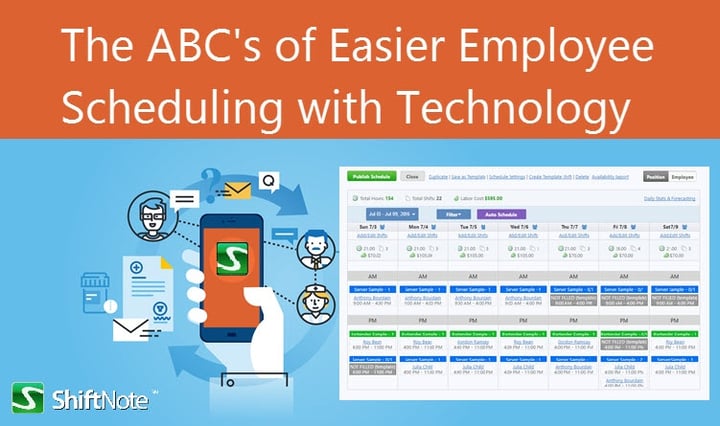 One of the most dreaded part of management is dealing with employee scheduling. Whether you have five employees or 50, trying to manage and organize everyone's availability into a working schedule is a daunting and never ending task. Luckily, the process does not have to remain so old school as pushing paper! More and more businesses are turning to technology solutions to make employee scheduling easier and overall more beneficial to an organization. When you start using technology to automate, build, and communicate with your staff, management can see an 80% savings in time scheduling or six hours per week! Here are the ABC's of easier employee scheduling with technology.
A for Automation and Accountability
Utilizing technology gives everyone on your staff accountability when it comes to their schedules. Forget the phone calls, the Facebook messages, the strings of text messages, the haphazard and often lost sticky notes all over your desk, and the emails that fall through the cracks. A software program will organize and manage all staff requests for anything relating to their work schedule. From time off requests to shift trades to availability switches, employees use the software to perform all of these actions which makes it incredible easy to keep track of and automate.
The accountability employees are given is beneficial to save time and to instill responsibility in your staff. They have to log in to the platform to see their schedule and submit their availability. This simple action makes them accountable for their schedule and improves employee performance due to the sense of responsibility and ownership they have over their own schedules.
How does the software automate employee scheduling? Employees enter in their availability on the scheduling software as well as view their schedule online, drop shifts, swap shifts, and pick up shifts. No more hunting people down for availability or losing track of papers. While most technology requires manager approval, you will save a huge amount of time gathering all your forms of communication to create a schedule. It is automated for you and all you have to do is click approve after employee's request changes.
A software program will alert employees if they are late turning in their availability and will send you a report of who is missing. This step of automation saves you a tremendous amount of time sorting sheets, tracking people down, and spending time on the phone with time sucking questions about shift trades because of incorrect scheduling information.
B is for Builds
Employee scheduling technology allows you to build a better restaurant all around. Two of the ways this is accomplished is through better training opportunities and better scheduling to reduce labor costs and meet demand.
Employee turnover is high in shift-based businesses, especially restaurants. This often due to deficiencies in the training of new employees. Most shift businesses have an initial training program, but little or no ongoing training to keep improving employees' skills and development. This lack of ongoing training can leave some in the dust, causing them to look for a different job they might do better at.
Using technology to schedule employees will give you a better big picture of each person's skill level and when they are scheduled. Using this information, you can schedule the newer or struggling employees with your rockstar ones. The rockstars will give support and guidance to the newbie employees, allowing them to learn from the best and develop their skills in an organic training. The benefit of performing ongoing training through scheduling is employees learn naturally and do not feel like they are being called out like they do when they are required to redo training down the road.
Outside of training, using a software will give you a big picture view of your labor costs and how it contributes to your prime cost. Scheduling software can combine your employee schedules with your sales to create a forecast so you can see the trends of busy and slow periods as well as visually see how much your labor costs. Having all your management tasks in one place makes it easier to see the big picture and will ultimately save you time and money.
C is for Communication
Some businesses are worried that technology will reduce the amount of communication with the staff, but the opposite is true. With the automation that technology provides, more communication occurs between staff and management because of the ease of access. In shift-based businesses, it is difficult to pass a message along to all your employees because they are present at different times. Sending a message through a software program ensures all employees will get the same message instead of distortion through the telephone game.
Employees are empowered to take responsibility for their own schedule. They can request shift trades or pick up open shifts with other employees, all with manager approval so your shifts don't spiral into chaos! With technology in the hands of everyone these days, this allows employees to manage their schedules from anywhere using their mobile device and makes it easier for management to achieve a work life balance.
Staff and management communications can be posted to a virtual bulletin board that all employees see when they log in to the software. With virtual communication through technology-based employee scheduling, many of the communication issues your business experiences are eliminated. There is complete transparency when using an online communication tool in conjunction with scheduling. A shared calendar along with group messaging keeps everyone on the same page and eliminates communication issues.
Overall, utilizing technology to its full potential when it comes to employee scheduling will reduce your labor costs while providing an increase in profit. The initial investment you make on employee scheduling software will be easily returned with an improvement on all aspects of your business.