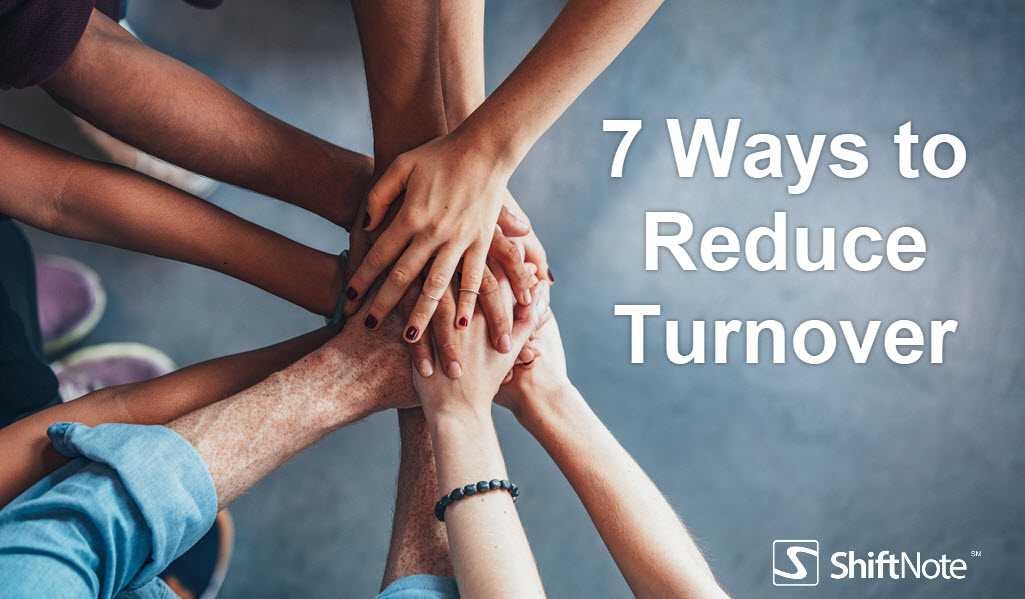 Do you know what the root of a business' problem is 90% of the time?
It's employee turnover.
That's right. According to Nation's Restaurant News, cleanliness, labor costs, maintenance issues, and unexpected sales dips all have one common denominator – employee turnover.
Within the restaurant industry alone, there is 100% annual turnover between hourly teams.
Your employees are your number one asset. (And tools to help you perform your job – ahhem ShiftNote). So, how do you combat these negative trends and keep employees for the long haul? Here are seven ways to reduce turnover...
1 - Find employees who are the right fit
The best way to eliminate the chance for them to leave is to take time to find people with the right values, skill set, and track record. During the interview process, define the job duties and expectations, and make sure you ask behavioral questions to get a full picture of how the candidate would fit into your overall organizational mix. As you speak with them, use your gut. If you get a bad vibe from a particular candidate, don't ignore that hunch… It's usually right.
2 - Realize compensation and retention go hand in hand
When employees feel valued, they tend to stay longer. And this has a favorable effect on a business' bottom line. While it might seem like a no brainer, many companies don't realize that monetary compensation and benefits go hand in hand. Here are a few ways to put this to practice:
Offer standard performance bonuses for quality work
Create standardized recognition plans
In the service industry, most employees' bread and butter comes from tips, so train them on how to maximize tips using social selling techniques.
It's also adventageous to offer real-time recognition. So don't wait til the next month or quarter to reward an employee for something they did today.
3 - Respect all levels
Did you know a startling 50% of employees don't feel respected in the workplace? A study of nearly 20,000 employees conducted by Harvard Business Review and Tony Schwartz revealed that being treated with respect was more important to employees than offering recognition, communicating a vision, providing feedback, and even supporting professional development. This is arguably the quickest fix for retention. As a manager, make it a daily duty to offer respect to all levels of your organization and operate by the Golden Rule "To treat others the way you would like to be treated."
4 - Play at work!
Take time to introduce fun into your organization to gain a more engaged workforce. "A day without laughter should be abnormal" notes The Balance. Take time for play to remove the notion that work is boring and "just for the paycheck." You can plan all-staff activities like mixers or holiday parties, celebrate each one of your staff members' birthdays, hold daily touch bases outside, or just keep the mood light when it's right. Play in the workplace also boosts morale and employee engagement as well!
5 - Offer professional development
Knowledge is power. When employees get the feeling management is stifling their ability to grow and learn, they may look elsewhere for a job. Here are some easy ideas to offer professional development within your organization:
Start a mentoring program. Pair a new and seasoned employee together and create a strategy for the newer employee to learn the tricks of the trade.
Provide opportunities within the company for cross-training and career progression.
Employees like to know their career trajectory. Outline this to them.
Offer a professional development credit of $100, $250, or even $500 per year and let them use it on a fitting online course, in-person seminar, or conference.
On-the-job training sessions and presentations are key.
6 - Avoid burnout
Are your employees exceeding the 40 hour per week mark? Doing this week after week promotes burnout. To fix this, make sure you leverage an employee scheduling software to staff adequately so overtime is minimized and you have a 10,000 foot vision on staffing at your organization. Balance is important in all aspects of life, and staff scheduling software can help you and your employees achieve this.
7 - Empower Employees
With this understanding about accountability in the workplace, you can set up your organization's structure to empower your employees. This should start with leading by example. When you make a mistake or when something you asked for doesn't turn out correctly, make a point to own up to your mistakes in front of your employees. Not only should you hold yourself accountable, but you should demonstrate how you plan to correct this problem from occurring again in the future.
As you demonstrate this behavior, empower your employees to begin holding themselves accountable. This can be rocky at first as employees are worried about consequences of admitting they made a mistake. Yet you should use the notion of accountability to encourage your employees to be proud of their achievements and own them. Empowering employees towards accountability will allow your organization to be more positive and uplifting as well as correct mistakes quickly with minimal repetition.
Have any tips you'd like to share to reduce turnover? Share them in the comments below!
Like this Blog? Check out more blogs just like this one at