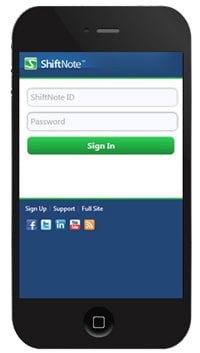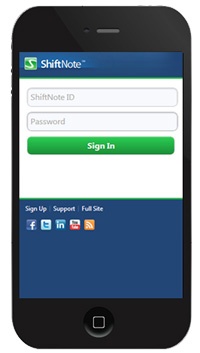 We're so happy to introduce the ShiftNote mobile website, 2.0! We've completely redesigned the entire mobile version of ShiftNote, so that it is faster, easier to use, and loaded with most of the same great features available on the regular website. This includes viewing unread entries in the daily log, replying to and creating new log entries, replying to and sending messages, creating tasks, calendar events, and more!
To access the site, visit http://m.shiftnote.com on your mobile device and log in as usual with your ShiftNote username and password. If you try to access the older version of the mobile site, you will automatically be redirected to the new version.
Adding a Shortcut to your mobile device
If you'd like to add a bookmark/icon to the ShiftNote mobile site on your mobile device home screen:
iPhone: When you're looking at the ShiftNote web page, just hit "+" and select "Add to Home Screen".
Android: When you're looking at the ShiftNote web page, hit the bottom menu button, select "More", and "Add shortcut to Home"