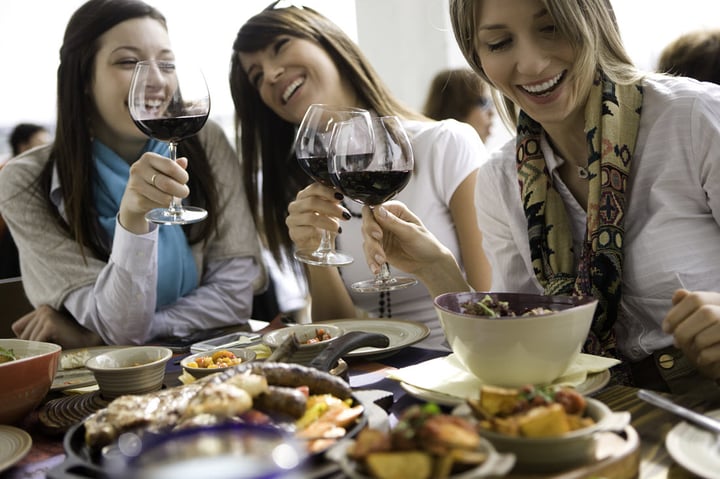 When it comes down to it, every restaurant business should be profit-driven… Your restaurant needs to turn a significant profit to thrive as a business, and at the same time, restaurant staff want to earn a good income to build or maintain a comfortable standard of living.
A server's paycheck will only get them so far, so the key to making good money as a restaurant server is through tips and upselling. As their leader, you need to coach staff to become customer service-oriented, and above that, exceptional salespeople. How do you motivate your servers to become better salespeople – and ultimately increase restaurant sales and profit? Here are two key strategies:
1. Invest The Time and Energy to Train Your Servers on Selling
It's a pretty easy concept: when a server provides excellent customer service, they are also selling at the same time. Selling comes down to their menu knowledge, personality, and ability to customize a patron's experience.
So, coach your staff to ask questions and listen to patrons to discover their preferences and customize smart recommendations. Offering suggestions has no detrimental effect on a sale; it can only lead to more profit – so why not suggest to your servers to try it?
Guest believe your staff know what the best things are to eat and drink, so why not offer suggestions of the best items before they even ask. Once servers have mastered "the helpful pitch" you can have frequent training sessions to strategize on what menu items you would like suggested based on the time of year and which dishes make you the most profits.
2. Share the Lesson of "The Power of a Dollar"
To help inspire servers to become better salespeople, break down some numbers for them. It's one thing to tell them it's important to be sales-focused, but another to offer proof.
If your servers increase their average check by $1 per person, have them think about how that would impact their weekly, monthly, and yearly income. This is what we call "The Power of a Dollar". If you can show a 2% revenue increase by training your staff to become better salespeople and coach to them to see what is in it for the salesperson (server), then your restaurant will likely see a lift in sales as well as profits. For example:
Say a server works full-time at 40 hours per week. They might serve 10,000 per year. If they are able to upsell each ticket by $1, that would be $10,000 more in sales for the restaurant and at a 40% food cost would equal about $6,000 a year in profits without doing much extra work except asking for the sale. How many servers do you have on the floor? What does this mean to your service staff? On the low end with an average of 15% tip on each table that would mean an extra $1,500 more dollars in their pocket.
ShiftNote founder Matt Thompson was previously a manager of a Kansas-City steakhouse. He trained his staff on "The Power of a Dollar" and immediately saw an increase in productivity and sales. He said, "The results were amazing. I found that by focusing on the power of the dollar an average server became a good server and instead of a typical 18% tip I was seeing 19 and 20% tip averages. So, by selling more we added service and it reflected in the tips earned."
Here are some easy items to increase restaurant sales:
Beverage specials
Appetizer
Entree sides
Coffee with dessert
Matt broke down the Power of a Dollar in this example:

Final Words About Increasing Restaurant Sales And Profits
Operating a sales-focused business is important, not only for a server's income potential but also for your business' profitability. Training your staff about the power of a dollar is a mutually beneficial endeavor – your servers make more and so does your restaurant. Remember: good customer service is all about creating a memorable interaction with patrons. This is the determination point if a guest comes back and spends again – bringing in even more money down the line.
Good luck! Soon you will see money signs in your staff's eyes – and a money-motivated employee is good for them – and you!
Check out more blogs just like this one at