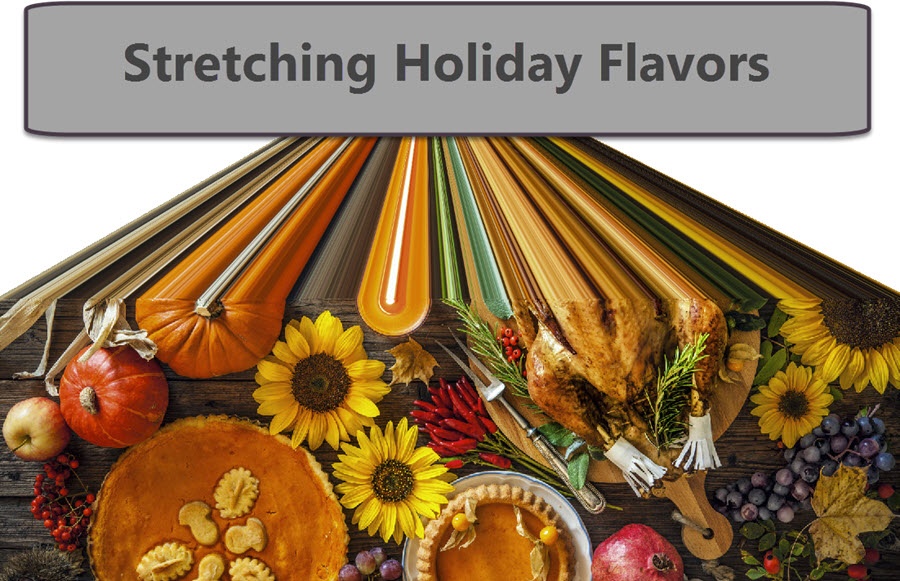 It is officially the holiday season which means your restaurant is in full swing preparing for increased traffic and planning ways to beat out the competition. Everyone is searching for the perfect restaurant to host their work party, friend get-togethers, and out-of-town family for holiday celebrations. One way to impress guests and keep them coming back long after the holidays are over is to introduce the classic holiday feasts...with a twist. Before they go out of style at the end of the year, consider adding some of the 2016 flavor trends into your dish creations.
Why 2016 Flavor Trends?
People expect the holiday classic dishes at restaurants, but it is also something they are going to eat anyway at Thanksgiving and Christmas tables. By incorporating 2016 flavor trends, you are taking a different spin on the classics that pop taste buds with eclectic flavors. Plus, by highlighting the fact you are using the year's flavor trends before they go out of style, you are showcasing your knowledge of and talent in the restaurant industry. To help you get started, here are some of our favorite flavor trends from the past year.
Jump on the Health Crazes
Pre-2012, eating healthy meant rice cakes and bland flavors. Now the health craze is gaining even more momentum because the food actually tastes good. There are many buzzword herb and healthy foods that you can add to your holiday classic dishes to get that unique flavor blend.
Chia seeds are similar to a poppy seed flavor when dry. They plump up when absorbing liquid, providing a sweet and soft flavor like tapioca pearls. Perfect for holiday pudding!
Turmeric has a pungent and bitter flavor with scents of orange and ginger. Use in relishes or in place of saffron for more of a flavor punch.
Thyme is the perfect herb for your stuffing, soup, turkey, fish, and custard recipes. Make recipes with tomatoes and thyme to bring out the subtle dry and minty flavor.
Lavender is very popular in recipes to add a unique floral depth to cuisine. Try adding lavender to dressings, in holiday ice cream, or in a fish dish.
Amaranth is a grain with a nutty flavor that would pair perfectly in your forest food dish twists for the holidays (see more on forest foods below). It is incredibly healthy and very trendy.
Matcha is the "it" flavor of 2016. By itself, it is incredibly rich and impactful, comparable to the experience of eating chocolate without the fame flavor. It would go best in homemade sauces or pastry dishes for your holiday menu. Adding matcha makes your dish take on the flavor and color of green tea.
Add "Forest Foods"
Connecting with nature's flavors has been all the rage in the past year. Unique nuts and mushrooms have been popular additions in the past year along with items like pine pollen and nettle root. Not only are these items unique and eye-catching on your dish description, but they fit in perfectly with the organic and natural trend that has been growing the past few years.
Adding forest foods to your traditional dishes will provide a unique woodsy flavor. They go well with multiple dishes, adding a touch of nature to savory and sweet feasts. Plus, forest foods are perfect to bring in that harvest taste for Thanksgiving. Try leaving the forest foods in whole or bringing them into a powder for a healthy flavor accent.
Create Dishes With Power Protein Alternatives
Power protein alternatives are incredibly popular! Originally items like legumes, lentils, and quinoa were introduced as healthy and protein-rich options to animal protein for vegetarians. But the health benefits and creative recipes have caused these power proteins to become more mainstream. Consider replacing the usual protein sources with alternatives for a unique flavor.
Spice It Up
Spicy flavors are very popular this year, even for people who usually avoid spice! The trend this year is introducing the flavor that spice can bring without completely scorching your taste buds off. Many flavor combos involving spice in the past year balanced the hot factor with a citrus or vinegar accent. This is perfect to experiment with traditional cheesy rice or mashed potato side dishes. You can also feature a spice flavor balance by enrobing your main dish (like turkey, ham, or your favorite cut of beef) with a spicy glaze to finish it off.
Mash-Ups of Flavors and Unique Presentation
Better than mash-ups of songs, mash-ups of flavors combined with unique presentation is a very trendy approach to your holiday meals. Savory and sweet flavor combinations are growing in popularity; combine that flavor profile with a mash-up on the presentation. For example, you can present a Shepherd's pie with elements of sweet in the presentation of a cupcake.
Like this Blog? Check out more blogs just like this one at ShiftNote!