Social Selling: How To Make More Money With Your Customers By Catering To Their Personalities

Larry Struckman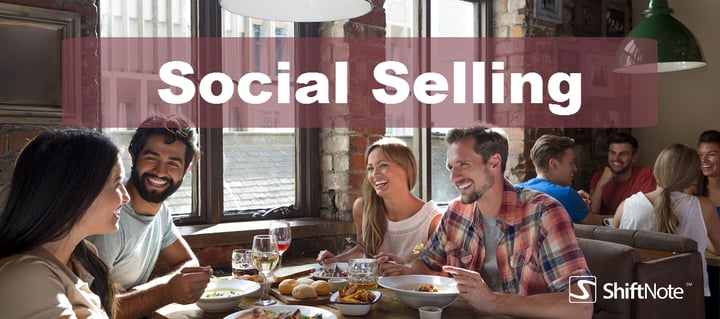 In the front lines of a restaurant, your #1 focus is your customer and creating a memorable dining experience for them at your establishment. You have the ability to create deeper, even more memorable experiences if you understand who your customer is as a person, and how they are best communicated to. Mastering this "Art Of Hospitality" will ultimately get them to buy more from you and your staff and come back to your establishment more often.
A good front-line worker understands that each person is not cut from the same cloth and will adapt their communication strategy based on your customer's personality style -- this is what we refer to as "social selling". With social selling, you need to quickly read your customer's tendencies and become an expert in behavioral styles.
Classifying Your Customer: Four Types of People
People can be classified into four different personality types: Amiable, Expressive, Analytical, and Drivers. There are two strong dimensions of human behavior that drive your customers personality types. They are: responsiveness (controlled emotion vs. outward display of emotion) and assertiveness (tending to ask vs. tending to tell). These dimensions offer insight into the classification of your very own customers personality types based on the following: controls vs. emotes (Y axis) and asks vs. tells (X axis).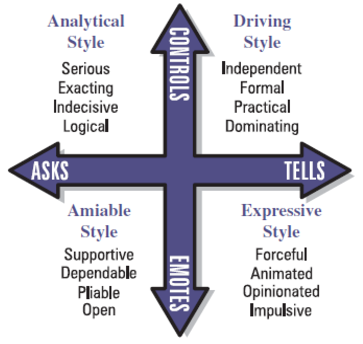 Now that you understand how social personalities are structured, we'll dive into details and also offer a sales tips for each personality type:
AMIABLE: (High Responsiveness (Outward Display Of Emotions), Low Assertiveness (Tends to Ask vs. Tell))
Think of this personality type like a Golden Retriever. They value people's company and is more of a listener than a talker.
Characteristics: Loyal, personable, patient, risk averse, non-confrontational, and agreeable.
In a conflict they Are passive, lacks conviction, or avoids the situation altogether
Their basic need: To feel secure
Social selling example: Make them feel supported by offering a lot of information about your menu offerings. Once they have made a selection, reassure them that they have made the right decision. View our post "Be Kind and Get Paid" for more strategies for the amiable personality type.
EXPRESSIVE: (High Responsiveness (Outward Display Of Emotions), High Assertiveness (Tends To Tell vs. Ask))
Expressive people are enthusiastic, dramatic, and interesting. If they don't receive the attention they crave, they can become "difficult" to deal with. They tend to talk more than they listen.
Characteristics: People orientated, attention seeking, upbeat, emotional, talkative, enthusiastic, and dramatic
In a conflict they Are unpredictable or emotional
Their basic need: To be recognized
Social selling example: After they review the menu, give them space to gain composure, ask questions, and identify their choice on their own. Then, applaud their selection.
ANALYTICAL: (Low Responsiveness (Controlled Emotions), Low Assertiveness (Tends to Ask vs. Tell))
On the exterior, analytical people appear serious, unsocial, and indecisive, yet internally their wheels are turning to question and analyze every detail and fact. In conflict, they can "whine", become sarcastic and are often negative.
Characteristics: Serious, mull matters over, Indecisive, persistent, ask lots of questions, attention to detail.
In a conflict they Whine, are sarcastic and sometimes negative
Their basic need: To be correct
Social selling example: Offer lots of details about the menu selection but avoid saying "I think" or "I feel". Listen attentively and offer facts and solutions with little emotion. Always follow through with exceptional service versus telling them that your restaurant delivers good service.
DRIVER: (Low Responsiveness (Controlled Emotions), High Assertiveness (Tends To Tell vs. Ask))
This personality type is task-orientated and efficient. Unlike amiable personalities, they place little emphasis on interpersonal relationships. They are risk takers and do'ers.
Characteristics: Task and goal-orientated, determined, confident and adventurous, and efficient.
In a conflict they Are aggressive and abrupt
Their basic need: To be in control
Social selling example: Understand that time is important to them, so be brief. As you walk to their table be assertive from the get-go. Listen and give them meal options.
Learning how to authentically adapt your social selling style throughout every interactions is the key to social selling success. Understand how to quickly pinpoint personality types and have the versatility to speak to each of them will help you make more money during a shift and wow customers.
Remember the foundation sales tips for social selling: modify your assertiveness or responsiveness approaches when communicating to the different personality types and be authentic to your style and you will have return customers for your entire career.
For more selling tips, check out our post on "Slow Sales Problem vs. Symptom".
ShiftNote is an Online Managers Logbook and Employee Scheduling Software available to make all those hairy management tasks easy to control in one simple interface. Start your research and see how technology can help your management by exploring ShiftNote!