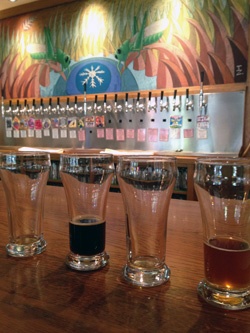 At ShiftNote, we have some of the coolest and most amazing clients there are. The type of companies using ShiftNote to help with their daily operations vary, and are located all over the world! Some of those businesses include restaurants, bowling alleys, country clubs, churches, pr agencies, resorts and hotels, and breweries. Yes, breweries! I'm a huge craft beer enthusiast, so being able to work with a team that's building software that also helps produce and serve something I'm passionate about is a dream come true! Last week I was in Denver for the Great American Beer Festival, and I had the chance to visit the booth's of several ShiftNote users and sample their amazing beer.
So how exactly does our software help make that beer? Those that are making the beer and running the operations to produce and serve the product in their taprooms, restaurants and pubs are using ShiftNote to communicate with their team. They use the online system to keep tabs on equipment, monitor personnel, record the brewing process, schedule staff, and discuss items needed for day-to-day operations. All the information is stored on our web-based system, so team members can access the information at anytime. This information can then be used to maintain the quality of the beer being produced, and help to manage the distribution of the product to consumers and brewery guests.
We were recently featured in Craft Brewing Business about how we are helping the craft beer industry, and our friends at Allagash Brewing Company, Great Lakes Brewing Company, and Four Peaks Brewing shared a little of why they like using ShiftNote to help with both the beer production, and also managing their restaurants and taprooms.
"I found the need for us in the maintenance department to communicate to each other what problems arose and how we solved them," said Jack Perrault, Steam Engineer for Allagash Brewing Company. "Also we needed to archive this info for later reference in troubleshooting situations. As a whole our maintenance group is more aware of what each other have witnessed and what solutions we've come up with. It has lead to more verbal discussions due to the fact that we are more aware of each other's work."
"Specifically in our brewery, it helps our two departments (brewery/restaurant) get on the same page," said Steve Lynch, Four Peaks Brewery. "We do all our keg calls through ShiftNote, our transfers, our seasonal beer information, our upcoming events – essentially everything is covered through the online journal."
"It is honestly the best communication tool I have found for my team," said Jeff West at Great Lakes Brewing Co. "We can easily communicate between shifts and departments."
It's definitely gratifying to know that the next time I sample a new beer, I might have had a hand in helping to make it. And as more craft beer establishments sign on to use ShiftNote to help manage their communication and operations processes, I'm equally as excited to do a little "work related research" and make sure the quality of the beer stays consistent.