What is ShiftNote?
ShiftNote is a shift scheduling software with a built-in manager log book. It's easy to use and great for restaurants, retail stores, hospitality, healthcare facilities, manufacturers, and more. Any industry that works on a shift-to-shift basis will benefit from ShiftNote. With
75%
faster scheduling techniques, managers can save time creating schedules. You will have all the tools to build your employee work schedule each week with just a few clicks while streamlining communication and managing your workforce better than before. ShiftNote will improve your shift-to-shift communication all around and reduce time creating your employee shift schedules.
Did you know? Managers can save 80% of their scheduling time (which equates to 6 hours a week scheduling) when utilizing modern employee scheduling technology.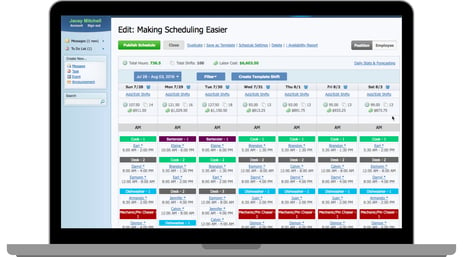 The mission for a shift-based work environment is critical when investing time and energy into scheduling 8-hour shifts. But all the time and energy that goes into creating schedules will ensure your business will be in the right place. Some other things employee scheduling may impact are employee productivity, labor costs, legal compliance, and employee & customer satisfaction. Here are some tips to help you guide your scheduling workflow plan:
How-To Guide with 4 Tips Below!
Construct Your Schedule Template

A master employee shift schedule or schedule template defines who, what and where resources are needed at a high level, known as an overview. Identify and anticipate the necessary resources by making sure they support your business's needs. Then identify existing regulations, processes, and policies that may impact your schedule building opportunities.

Assign Shifts

Once the employee shift schedule is mapped out, it's time to assign shifts. Places and times should be determined if the schedule template was made correctly, so all you have to do is select the right individual for each shift. Some pro strategies include figuring out who is in charge of creating shift schedules, finding out how employees request shifts, and how much each shift may cost, referring to the labor costs, which will guarantee you stay on track with your company's income.

Make Changes

You may think the perfect shift schedule is all set now, but there may always be something that needs to be edited or changed. Reasons for editing the 8-hour shift schedule could be, someone calls in sick, no-shows happen, or someone's availability changes all of a sudden. Don't think as soon as the schedule is made and published you can forget about changes! This is what ShiftNote is for. Daily Notes and communication between employees.

Measure, Learn & Adjust!

Compare analytics to know when the best times to schedule employees are, so you have enough help during busy times, and not too many employees during slow hours. Sometimes the on-call method could work here, but it is a tricky solution to implement with an 8-hour shift schedule. Once you know the busyness and downtimes, you will be able to have a more set-in-stone schedule each day and each week. Just keep track of times and adjust your schedules if needed.
For a more in-depth look at the tips and tricks for shift schedules, follow this link here!
Why Going Paperless is the best option for you?
Going paperless means streamlining all of your shift scheduling-related communications into a single software, which is the most efficient and organized way to go. Employees that have a shift change will see it automatically as a notification either on their mobile device or computer, making it super easy to communicate any changes that arise. Employees can also submit their availability virtually anytime, while managers can update the changes and availability without having to spend countless hours figuring out the schedule via pen and paper or excel spreadsheet. ShiftNote even has a mobile app for users to access their schedule anywhere and at any time. ShiftNote's online software will reduce the complicated and messy communication that used to be while growing businesses' sales and profits.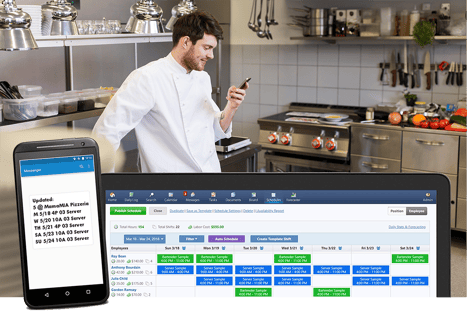 Check out how ShiftNote's shift scheduling software is the best fit for your business here.
If you want to test it out and see if ShiftNote is a great fit, we have a 30-day free trial available just for you!!
If you are looking for the ultimate list of resources for shift scheduling, click here!