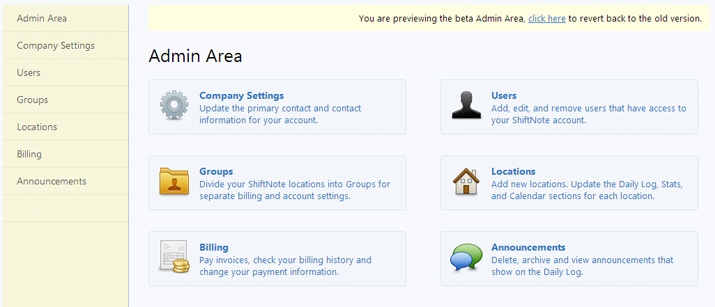 The ShiftNote team has been working hard on some much needed site updates. We have completely redesigned the Admin Area and have added in some exciting new features as well. You can access the beta version of the fully functional new Admin Area by clicking on the Admin icon in your ShiftNote account, and clicking on the link below it to activate the switch. You can easily switch back to the old Admin Area at any time while we are in the beta period. You must be a Company Admin in your account to make the change.

When you access the new Admin Area, you will see a new layout that you should find easier to navigate. All the old functionality is there, displayed within a more intuitive view.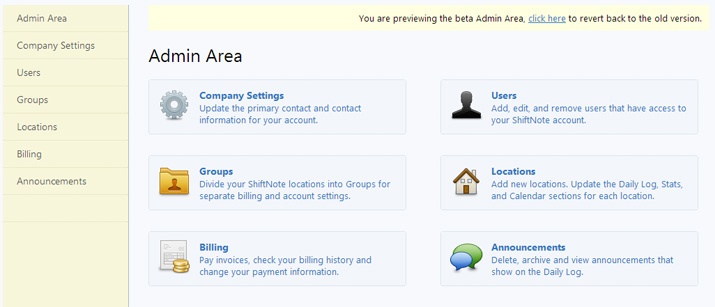 There are many new features packed into the new Admin Area that we are sure you will be excited about! These features include:
Customize Calendar Categories
Under the company settings section, there is a tab labeled Calendar Settings. The Calendar Settings area allows you to define event categories and even choose your own display colors for the events. You can also create different access levels for event types, so that only certain users can view them.
New Access Settings
We've expanded the user access levels to allow for a bit more flexibility. Previously, only Company Admins could edit Daily Log categories and stats, however the new Admin Area will let Company Admins give this ability to other users if desired for the locations in which they have access to.
Restrict Daily Log Category Access
One of the biggest changes to the new Admin Area is the ability to restrict the access to each individual Daily Log Category. Once a category is created, click the Edit link next to the listing. From here you can choose which users in your account can see and leave posts in each category.
Create Your Own Custom Stats
Lastly, we've added some major enhancements to the Daily Log stats creation. You can now add, edit, and remove stat headings/sections. You can also create custom stat calculations. The support team is always here to help you customize your account, but we wanted to make sure you were able to make the adjustments you need when you need them.
We are always striving to make ShiftNote a better communication tool for you and your team. A majority of our enhancements are based off customer feedback. We thank everyone who has provided thoughts, ideas, and more to make these latest new features happen. Please continue to share your feedback by leaving your comments below.