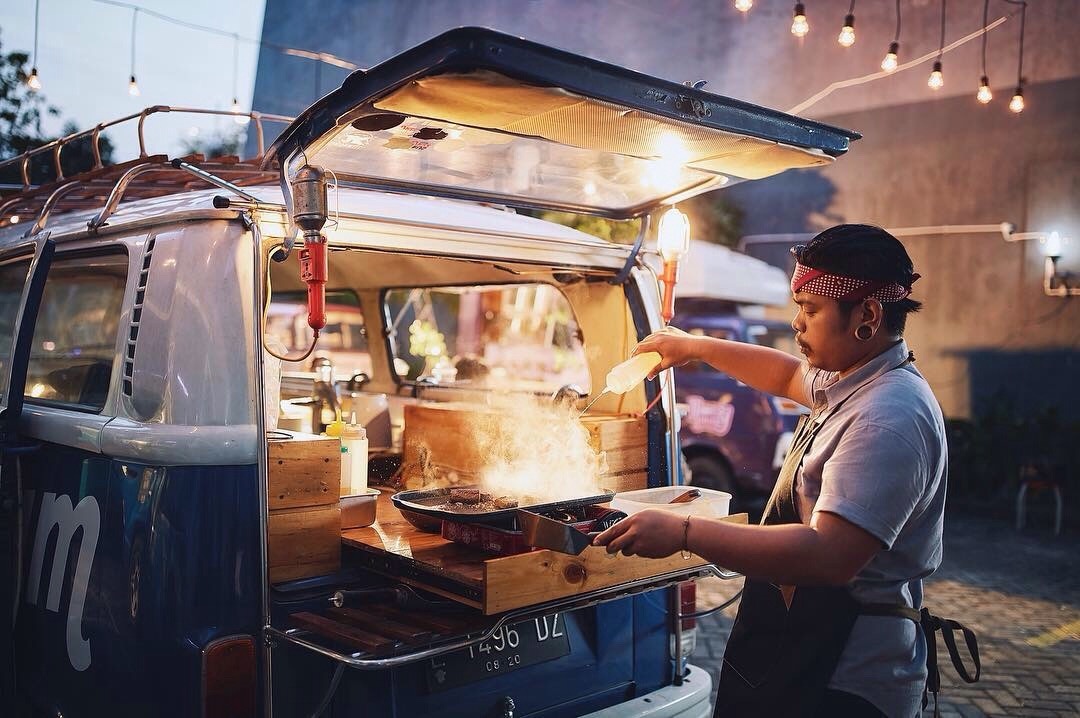 Many hospitality workers dream of owning their own business one day. Or maybe you already do, but you want to try out something different on the side. You might have been in a kitchen for years following someone else's direction, or maybe you want to take your salesmanship out of a traditional restaurant setting and onto the street. Starting a food truck can offer a solution to any one of these problems. Food trucks are gaining in popularity, and the trend doesn't look to be slowing down anytime soon.
Is the time NOW to start your dream of owning a food truck? Follow these steps to get your own food truck business started:
Create a Business Plan
To turn your dream into reality you'll have to write a business plan. This is a lot less fun than daydreaming about your food truck business, but it is a necessity. Your business plan needs to include a company description, an analysis of your target market, a marketing strategy, and a projection of profits. If you're getting a loan, this is what you'll bring with you to your loan officer when you make a proposal. Also, if you're getting a loan, the projected profit margin is key because the lender will expect to be paid back.
[Check out this guide from the U.S. Small Business Administration on starting a small business.]
Fund Your Plan
At first glance, food trucks seem a lot cheaper than a brick-and-mortar restaurant, but they can be fairly expensive. The biggest purchase you'll make is the truck. You also need to consider small business permits and licenses, as well as any upgrades you plan on doing to your truck. To do this, check with your state Department of Labor.
You can also consider using equity for your loan, asking a friend or relative for help, or approaching a small business lender. If you go the small business lender route, you'll have better luck if you have a solid business plan, good credit, and maybe even collateral.
[Bonus: Check out this guide from Consumer Affairs to help you navigate the sometimes-confusing terrain of small business loans.]

I love living in Shawnee, Kansas a suburb of Kansas City. Besides living in a fantastic community, we have a fantastic local Food Scene. Our good friend Brad Pippin is looking forward to his grand opening in the next few weeks. Brad will be serving up local favorites from his Food Truck named "Home-Plate" located at one of our sporting complexes in western Shawnee or catering private events from his mobile culinary palace. At the end of the day, what will make Brad and his Food Truck so popular is his passion for cooking great food.
Purchase Your Truck
You can find used, new, or lease options for food trucks; a quick internet search will bring up endless options. You can look at local or national online classified ads or purchase a customized new truck. Buying a new truck is the most expensive route, but the appeal is that you can build and customize it exactly to your liking. Leasing is another option to consider when starting a food truck business.
[Bonus: FoodTruckEmpire breaks down the cost of a food truck.]
Choose Your Menu
If you're even entertaining the idea of starting a food truck, chances are that you have a passion for food. Successful food truck owners have a small and specialized menu. They are not a "jack of all trades and master of none" like some big chain restaurants. Quite the opposite, food trucks are the best at everything that they do including having a well designed menu board.
[Bonus: Check out this list from Thrillist featuring America's 20-best food trucks.]
Pick a Place to Park
As the old saying goes – it's all about location, location, location. Choosing a place to park your truck and sell your goodies might be the most important decision to make. Research the market and examine the competition – be it food trucks or brick-and-mortar restaurants. You are limited by ordinances and zoning, so make sure to do your research. Local events charge you to park in their space, but they will advertise for you and tend to bring in a lot of customers.
Remember: hospitality establishments of any kind require good infrastructure and tools to maintain organization, shift schedules and employee management. Inquire with our team at ShiftNote to learn about how we can help your business reach maximum efficiency!
[Bonus: Read these suggestions from Restaurant Engine on choosing a great location.]