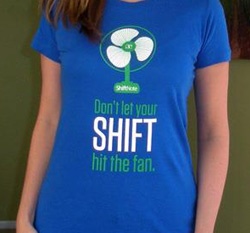 Tell us that you love us on Twitter, Facebook, and/or comment below, for a chance to win a beautiful new ShiftNote t-shirt! You've got until next Friday, the 12th to enter. We will pick 5 winners at random, and mail you out a shirt. If you give us love on all three websites - Twitter, Facebook and this Blog Post, then that will count as three entries, as in more chances to win. Because we know how much you really want to sport our snazzy and fashionable tees.
Entry Examples:
Twitter
Please tag all tweets with #ShiftNoteRocks and include @ShiftNote to be eligable
I freaking love @ShiftNote #ShiftNoteRocks
Facebook
Leave a comment on our Facebook wall, rhyming optional.
ShiftNote makes all my dreams come true, and it helps me run my business too.
Comment Below
This one probably doesn't need instructions, but just in case: below this blog post, there is an area to leave comments. Share one that might read...
I heart you ShiftNote - because without you in my life, I do not know how I could go on.