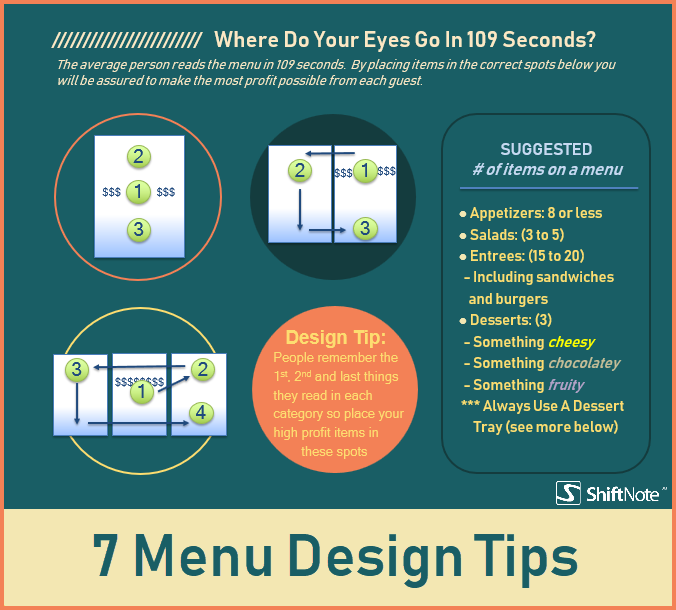 Note: We recently published a post on menu design. We thought we'd take it a step further and offer additional tips to make your menu design even better. Tune in!
As a restaurant leader, driving profits is your goal. While many areas of your business impact your bottom line, believe it or not, menu design is one of the biggest opportunities for sales increases. Why? There are a few reasons:
It's an element of your restaurant that is fully in your control. (While top-notch customer service and delicious food can make or break the customer experience, these things are often out of your control.)
It's a small effort that scales into big wins. Making a few tweaks to your menu's format, can impact your bottom line.
It is your #1 sales tool and can be your fastest way to increase profits and create repeat customers
Here are some ways you can feel the love even more with better profits using a stellar menu.
1 - Limit the Number of Items Available
How many options are on your menu? Restaurant patrons get stuck in analysis paralysis if there are more than 40 options on a menu. Limit the number of options to no more than 10 per category -- appetizers, main entree, dessert, etc. In fact, 10% to 15% of the menu items are items that are troublemakers and could be eliminated.
2 - Keep it Simple
Similar to item quantity, intricately designed menus overwhelm customers, causing them to keep their standard choice. Focus on design simplicity and readability to give people more time to browse the menu and decide on what they want. Use a lot of white space, and make sure the font style is legible.
3 - CRAP?!
Have you ever heard the acronym C.R.A.P.? Believe it or not, it's an easy way to remember key design principles.
C - Contrast: Avoid elements (type, color, size, color, line thickness, shape, space) that are too similar adjacent to one another on a menu. Your eyes are visually attracted to contrasting elements, like black and white or light and dark.
R - Repetition: Repeat visual elements of the design throughout the piece. This helps develop the organization and strengthens the cohesiveness of the menu.
A - Alignment: Align menu selections under the subhead. Keep similar justifications for each menu panel.
P - Proximity: Items relating to each other should be grouped close together. When several items are in close proximity to each other, they become one visual unit rather than several separate units. This helps organize information and reduces clutter.
4 - Add High-Quality Photos
If a picture speaks 1,000 words, why not use them in your menu to induce some drool? Find a local professional photographer (there are even professional food photographers) who can shoot your top-selling and highest profit items. People purchase products based off the image alone. Have them prioritize shooting top-selling items with a high profits.
5 - Enlist a Pro for Menu Copy
We suggested in the previous point to hire a professional photographer. Beyond that, you may also want to hire a professional copywriter to write the item descriptions. Your menu is an effective sales tool when written professionally. Different wording impacts appeal and sends different messages. Often times, a chef will write the menu. While they might have good insight about the menu items, a freelance can take information given from your chef and turn it into persuasive descriptions. If you're going to write the menu yourself, follow these tips:
Don't over describe your items. Don't list every ingredient -- that's information overload. Choose a few descriptors and differentiate.
Reread the copy. Does the description make you hungry? If not, revise it!
6 - Placement Matters
A restaurant patron looks at a menu for an average of 109 seconds on a constant loop, in a horizontal motion. 109 seconds is not that long for them to make a decision. Don't make it easy for them to just scan for the price but rather have them read the description first and then include the price after the description. Customers start reading the top of the right side of the menu first when browsing for menu options. Lay out your menu so your most profitable items will be placed in highly visible areas. Customers will remember the items placed in the 1st, 2nd and last positions so put your highest profit items there. Also make sure to give priority placement to appetizers, sides, and put desserts on a separate menu. Virtually every customer will order an entrée, but not everyone will order extras. Be sure your staff is trained in the steps of service so you don't miss out on selling apps and desserts. Last, make sure to divide your page into columns. A patron will be able to scan that information faster than a one-column layout.
7 - Utilize Prix Fixed Menus
Fixed price, or prix fixed menus help maximize on profit opportunities. Why? This multi-course option comes with a set price. Include an appetizer, entree, and dessert for one set price seems affordable to the customer, but believe it or not, you are increasing the dollar amount the patron spends by combining items at a set price. Your prix fixed options can even be a menu insert.
[BONUS]
Beyond the above elements listed, it's advantageous to update your menu at least once per year. "Every item on your menu should be popular," remarks FoodNewsFeed. "If a dish is not, it should be evicted and replaced." As you update your menu, look at extending the menu of popular items. For instance, if a high-ticket item like a salmon entree is popular, consider adding variations of it to the menu.
Beyond that, think about removing Items with low sales and high food cost, like those that require slow preparation or need several special ingredients. To quantifiably do this, determine the gross profit dollar and average weekly sales of each item. (Multiply the average weekly unit sales by unit gross profit dollar to determine weekly gross profit dollar contribution.) Take out all items that contribute less than 3% of the total contribution.
ShiftNote is an Online Manager's Logbook and Employee Scheduling Software available to make all those hairy management tasks easy to control in one simple interface. Start your research and see how technology can help your management by exploring