ShiftNote is a useful online log book that many of you sign into each day to log notes and communicate with team members. So we thought it might be nice to point out some tips and ideas that you might not be aware of to help you better manage your workforce and save time and money!
1. Desktop Shortcut
Did you know that you can create a desktop shortcut icon so that you can access ShiftNote with one click? To add the desktop shortcut icon, log into ShiftNote as usual, then click the Account link in the upper left corner under your name. The first thing you will see is a link that says, "Install Desktop and Start Menu shortcuts." Click this link, and the icons should be created!
2. Accountability
Wouldn't it be cool if you could see who has read your daily log entries, and when they read them? Oh, but you can! If you have Company Admin privileges in Shiftnote, log into your account and click the Admin icon in the upper right corner. Click the Manage Accounts tab, and click on the location you would like to add this feature to. On the right you will see a list of add-on features, click the box next to accountability. Now when you are on the daily log, you will see a little graph icon when you hover over each entry. Click this and a pop-up will show you all the users in your account, when they last logged in, and when/if they have read the entry.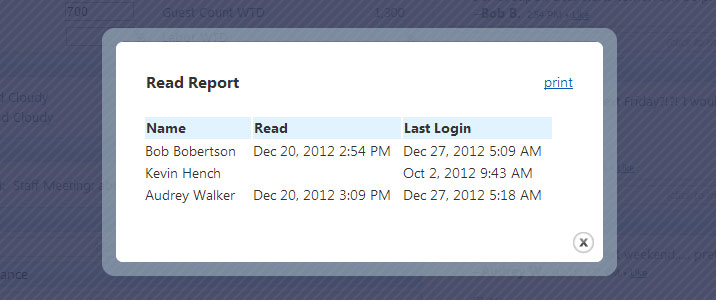 3. Mobile Site
Is there a mobile version of ShiftNote? Of course there is! Just visit http://m.shiftnote.com on your mobile device browser. You can log in as usual, and access most of the same great features available in the desktop version. It's a great way to catch up on the things going on in your business when you can't be there in person.
4. Mobile Site Icon
You can easily create a home screen bookmark/icon for ShiftNote on your mobile device, so that you do not have to navigate via the mobile browser each time. If you have an iPhone, when you're looking at the ShiftNote web page, just hit "+" and select "Add to Home Screen". If you have an Android device, when you're looking at the ShiftNote web page, hit the bottom menu button, select "More", and "Add shortcut to Home."
5. Announcements
Ever wish you could post a log entry that spans multiple days or post a message that grabs attention immediately? We've got a solution! Create an announcement. On the left side of the screen under the calendar, there is a box labeled Create New. Click on the last link in the box, Announcements. A pop-up will appear that gives you a choice of how you would like to display your important message. Show it as a banner at the top of the daily log, as a daily log category, or as a pop-up window that is visible when you first log in to ShiftNote.

6. User Audit Report
The User Audit Report will let you know who has access to your ShiftNote account, and how much your team is using it. If you have Company Admin privileges, click on the admin icon in the upper right of your screen once logged in. On the left side of the screen you should see a link labeled "User Audit Report." Click this to reveal a report of all the users in your account, when they last logged in, and how many entries they have made in the daily log. It is good practice to check this list once a quarter to make sure that old employees are removed from the system.
7. Email Alerts
With Email Alerts, you can request to be notified via the email address associated with your account, every time a certain keyword or phrase is entered in the daily log. You can even filter this down by author, location, date range, and/or category name. To add a new alert, click the Search icon in the main navigation area. Type in your keyword and filters, and hit the search button. On the upper right side of the screen you can choose to have ShiftNote email you when a new entry is made that meets the entered criteria.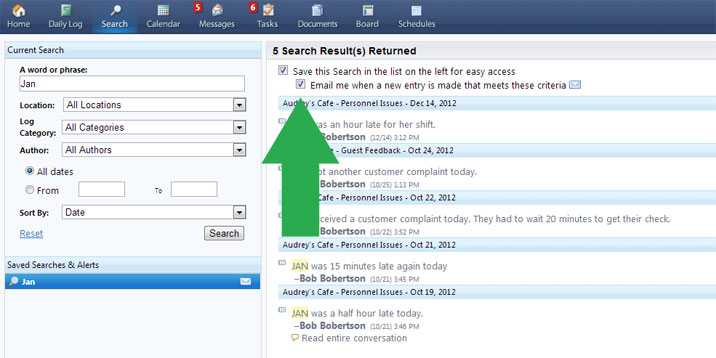 8. Stats and Category Mimic
Did you know that we can easily mimic the stats and daily log categories that you have set up for a location to one or all of your other locations? We've got an easy button that will quickly replicate your hard work so that you don't have to recreate the setup for each location in your account. Simply give us a call or email us at support@shiftnote.com with the details of what you would like duplicated, and we'll take care of it!
9. User Guide
We've created a very helpful user guide to help answer your ShiftNote questions. If you're logged into your ShiftNote account, you should see a link to our User Guide in the footer (bottom of the screen). Simply click here whenever you're having trouble, and search for a solution. You can of course always contact support as well, and we'd be happy to help!

10. New Features
We are constantly making updates and adding new features to ShiftNote based on ideas we have that we think would make your lives easier, and based on feedback we receive from you! If you ever have a thought or idea that you think could help you and others better manage your business, please send them our way! Good or bad, customer feedback is how we perfect the ShiftNote suite of tools! You can comment below with your ideas, connect with us on Twitter or Facebook, or shoot us an email at support@shiftnote.com.