Turn Communication Breakdowns into Breakthroughs With This ONE Strategy

Kevin Hench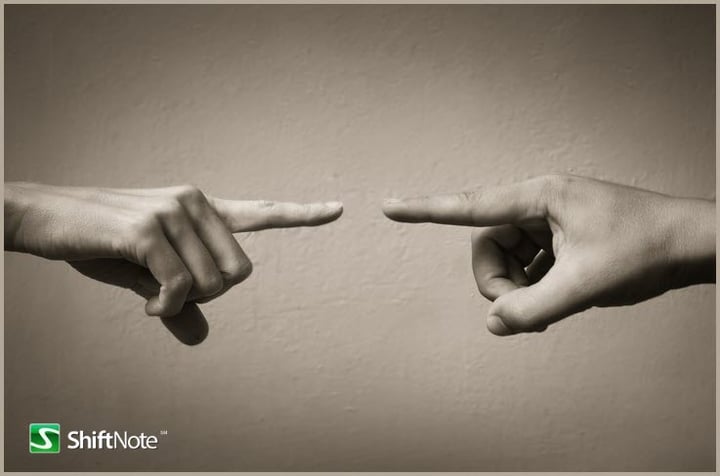 Within any industry that manages multiple staff members and sometimes even multiple locations, inefficiencies are everywhere and communication breakdowns happen for a variety of reasons.
Does your business experience one or many of the following issues?:
Poor communication
Frustrated employees
High turnover
Disengaged workers
Loss in profits due to scheduling errors
Overstaffing
Understaffing
Not enough coverage over the holidays
Too much coverage during non-peak times
Not enough employee downtime
Too much employee downtime
Endless hours of managing PTO requests
Inefficiencies in scheduling, leading to a loss in productivity
What's the one solution to these common breakdowns….? Employee scheduling software. Microsoft Excel documents, or worse, a print off of clip-art schedules just don't cut it anymore. In today's day age, you need to use software that is cloud-based, accessible, easily editable, flexible, customizable, and tailored to your business. ShiftNote's employee scheduling software can send text messages and emails to employees with schedules and updates, and it allow managers to seamlessly create multiple schedules across locations and times. In fact, here are a few key benefits of employee scheduling software here:
Find out how scheduling software can help your business and reduce communication breakdowns…
1 - It Allows You to Manage Shift Changes
Life happens. Your employees could get sick, their kids could get sick, they could get a flat tire, they could have a death in the family. Long story short – your employees face multiple obstacles outside of the workplace – many of which are unforeseen.
In this case, using an employee scheduling software allows you to adjust your workforce's schedule based on foreseen – and unforeseen challenges. See who is free or wants more hours… See who is not… All within one dashboard. With ShiftNote, you can easily approve shift swaps and time off requests while you're on the go – or at the office.
2 - It Allows for Communication Multiple Touch Points
When you say something to your team once, it's often not retained. If you want to share scheduling updates, you need to repeat the exposure to it. Our scheduling system allows you to access an employee's' schedule many ways – like online, printed off, mobile, and via email!
3 - It Allows For Easy Access
What happens when your employees are not at the workplace and need to access the schedule? With a paper-based system, an employee may be able to take a picture of the schedule on their phone, but how inefficient is that? And what if the schedule changes? That employee is out of luck. Again, this is where the ease of using a scheduling app comes into play.
4 - It Keeps Things Organized
Within your team, it's important to arm employees with information they need to flourish in their given role. One way to do that is to give them access to tools so they can effectively communicate with you. With an employee scheduling tool, you can easily upload the following documents, so employees can access these materials at any time:
Training programs and documents
Onboarding materials
Social media policies
General business forms
HR forms
Compensation policies
Time-off policies
Beyond the mundane documents, scheduling software with messaging and document storing also presents the opportunity to highlight exceptional workers. Good businesses recognize top performers' efforts. With an employee scheduling system, you can use it to broadcast a standout employee.
5 - It Allows You to Specify Messages to Targeted Audiences
Spray and pray messaging doesn't work, no matter what function you're responsible for. It's important to create targeted and relevant messages to employees, so you are not tuned out. Employee scheduling technology makes it easy to send targeted messages to specific employees or groups of employees within your organization. Do you need to send a particular message to weekend only workers, for example? You can do that with an online scheduling software solution. Targeting your communication can improve YOUR efficiency and AVOID message overload for your staff.
Everyone knows that communication can make or break a relationship. Poor communication and scheduling harvests a breed of additional problems. Your business doesn't need that. By implementing an online scheduling solution and managers logbook within your organization, you can eradicate many communication problems in the workplace.