6 Things to Include in a Restaurant Business Plan

Angela Baker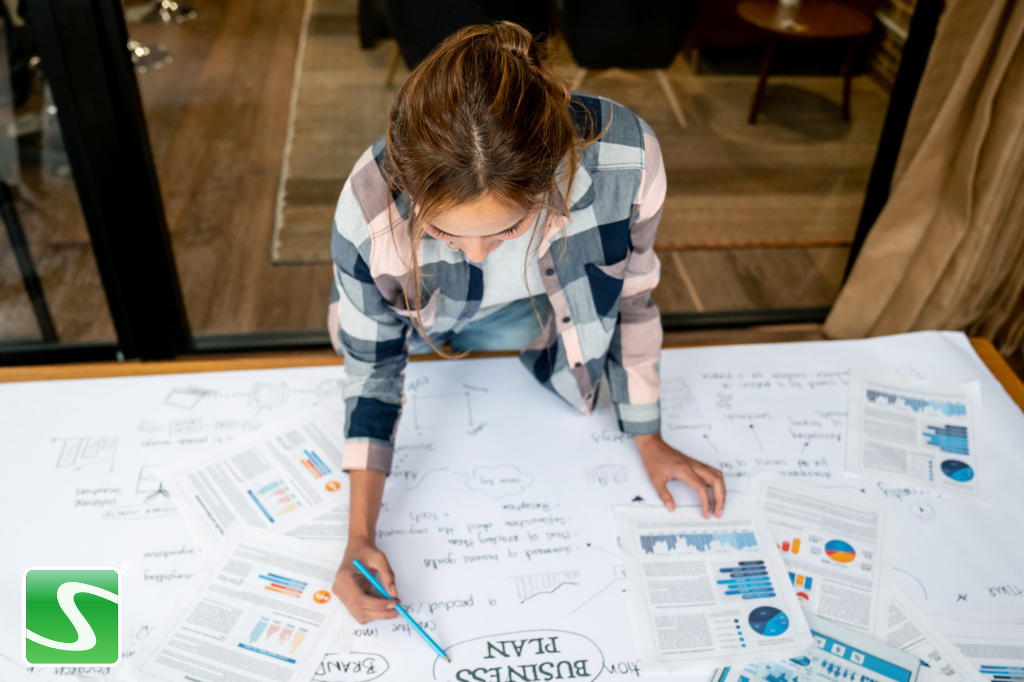 Setting up a new restaurant is no easy task. There's a lot to consider in order to ensure your business will be successful. So let's start from the beginning, one of the most important aspects of opening a restaurant is creating a proper business plan.
If you don't know how to set up a business plan for your restaurant, no need to worry - we got you covered! Keep reading to learn what to include in your business plan before opening your new restaurant.
1. Your restaurant concept
The very first thing you should know when it comes to creating a business plan for your new restaurant is the description and purpose of your business. Once you nail down the main purpose of your restaurant, creating the rest of the plan will be easier.
First of all, be certain about the type of restaurant you want to create before moving on. Do you want to open a smaller diner, a high end restaurant, maybe a quick serve style, or a casual sit-down restaurant? When you're starting from scratch, the sky's the limit! However, this needs to be decided before moving on further.
Once you decide, it'll be easier to set expectations for the quality of service and the budget necessary to put it all together!
2. Location and target customers
Once you decide on the type of restaurant, the next step in your restaurant business plan is finding a proper location. Your restaurant's location is vital to its success since it determines what type of customers are going to be coming in every single day. So, think about who your ideal customers are. Are you targeting college kids? Find a location near a university. Are you targeting families? Find a location near some prominent family-oriented neighborhoods. Are you targeting young couples? Find a fun location downtown. Basically, be strategic about your restaurant location so you draw in the right crowd.
Another thing - your restaurant's location also impacts what's on the menu. If you're close to the ocean, seafood is an obvious choice. If you're based in a metropolitan type downtown, you'll have a huge variety of styles and menu options to choose from (these areas are usually quite diverse). So while you're deciding on a location, always think about who will be visiting your restaurant and what you want to be serving!
3. Restaurant layout and design
The indoor design of your new restaurant is also something to consider when creating a business plan. If you have any investors, they'll want to know the specifics of your plan. Deciding on your restaurant design helps you express your overall ideas and goals. This is especially helpful during the hiring process. You want to find the right employees, that support your restaurant and its goals!
Restaurant interior design basically involves everything inside. Think about the walls, the table layout, the decorations, any additional furniture. All of these add up to create one cohesive restaurant design - which makes a huge impression on guests. Restaurant design also involves any equipment you need (like registers), the kitchen appliances, and even what's in the bathroom! I know it sounds crazy, but if you've been to a restaurant and are impressed with the bathroom, that's always a good impression. Every inch of your restaurant sends a message to customers, so make it count.
The design of your restaurant can really impact the way your customers view the space they dine in. Not only will it affect whether they feel welcome and comfortable in your new restaurant, it will also help them enjoy the experience as a whole!
So what's the point of adding indoor design ideas to your business plan? These details allow you to create a budget and help you get a better view of the restaurant vision. Not sure how to decide on a theme? Sharing your ideas with those you work with, new hires, or your trusted family members will help you get a second opinion and improve anything you're not confident about.
4. Your employees
The employees you hire can determine whether your restaurant will be a success or failure. Think of who you'll be working with on a daily basis: cooks, back of house employees, servers, bartenders, and hosts. It's important to hire people that align with your restaurant's purpose and mission. Employees that are passionate and ready to work will always perform better than ones just getting by job to job. Find your people, and your restaurant will be successful.
All of your hires will shape up your team of employees and will help put your restaurant business plan forward another step. Building your team means taking serious steps toward making your restaurant come to life!
5. Marketing for success
Marketing is important both before and after the opening of your restaurant. If you want to attract new customers and have a full house, marketing is the answer. It's important to lay out some marketing strategies in your restaurant business plan so you have actionable steps to take.
There are many different ways for you to promote a restaurant. One of the most common ways is creating and spreading flyers through your town, which can contain a small coupon for visiting your new restaurant. This is especially successful in smaller towns! Customers always love supporting local businesses.
A soft opening with friends and family can also help you determine whether your flyers will be successful or not with the public. This is an easy and inexpensive way for you to test out your marketing strategy to see if it will be a success.
Another very successful means of marketing your new restaurant is through social media. This will not only help you promote your business without adding costs, it will also allow you to reach more people and therefore attract an even bigger crowd!
Last but not least, some additional ways to increase customer attraction is through SMS marketing and email marketing. By collecting some basic information about your customers such as their first and last names and their birth dates, you can easily reach out to them via messages and offer them discounts on special occasions such as their birthdays and national holidays.
6. What's on the menu?
Your menu is the number one thing that every customer is interested in when trying out your restaurant. The meals you offer and the quality of ingredients is what keeps customers coming back for more. You'll need to have an idea of the menu when creating your restaurant business plan since it's an integral part to any restaurant.
When it comes to writing the menu, you should consult with your chef or cooks and come up with items that are unique to your restaurant. Make sure the menu is well-written and the design of the menu is appealing. It's also a good idea to include images of certain dishes unique to your restaurant so that the customers know what to expect in advance!
One more important thing is to make sure you take the time to edit and proofread your menu and anything else that involves written content. There's nothing more embarrassing when you open than a customer pointing out grammar issues.
Following these tips will ensure an easy to read menu and will also make your restaurant appear more professional, which will result in boosted sales!
In order to minimize the risk of grammar and spelling errors, you can proofread your menu by using online tools such as GrabMyEssay, Grammarly and Studicus.
You can also use tools such as HemmingwayEditor and TrustMyPaper in order to ensure the written content of your menus and fliers are edited, polished, and ready to be viewed by customers.
Making your new restaurant a success
Whether you are a new restaurant owner or not, having a solid business plan will help you set goals and expectations and know exactly what to expect once your restaurant is up and running. It will also help you achieve a better level of communication with your employees and foster a strong workplace culture.
The most important thing to keep in mind is that the more effort you put into shaping your business and making it as close to your vision as possible, the more successful it will be. Do you have any past experience in creating your first restaurant business plan? Share it with us in the comments below.