50 Employee Appreciation Ideas Every Manager Should Know
Jacey Lamb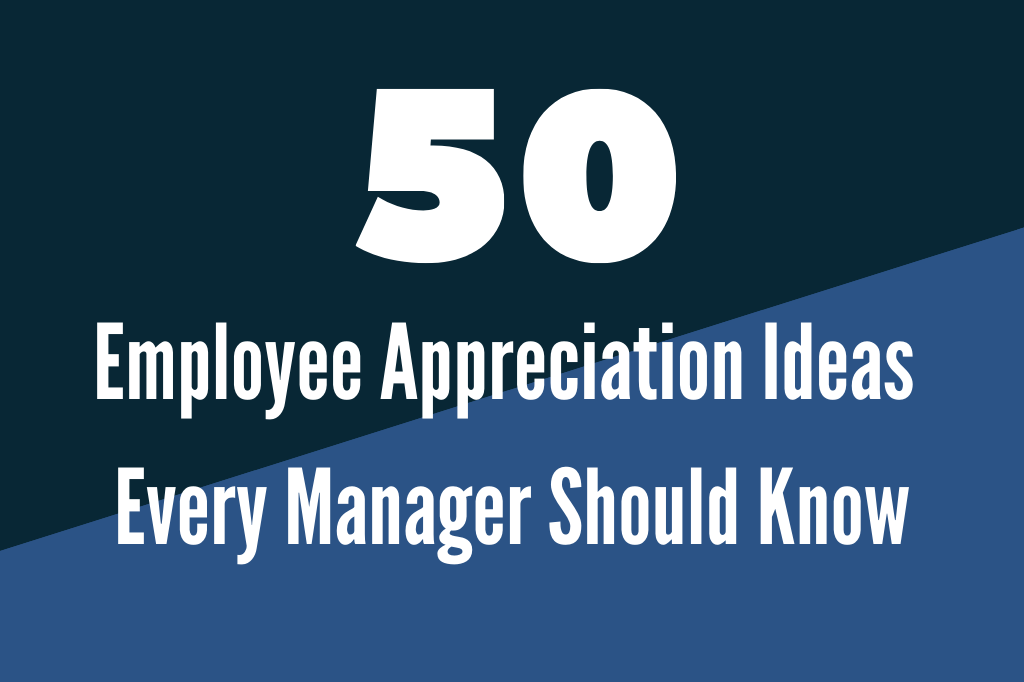 Want to reduce employee turnover? Don't we all! When employees don't feel recognized or valued at work, they'll often leave their job or just do the bare minimum as a result. One sure fire way to reduce turnover and increase employee satisfaction is actually pretty simple - it's showing appreciation! The good news is, showing employee appreciation doesn't have to be hard. We have 50 ideas for you to pick from, just keep reading.
1. Birthday celebrations
When an employee has a birthday coming up, plan to celebrate! Cater in a delicious meal and get a cake made so everyone can take part. Birthdays are a great and easy way to show employee appreciation throughout the whole year.
2. Birthday days off
Go the extra mile and allow every employee to have the day off on their birthday! Or, if they're planning a weekend trip for their birthday, make sure they get the request off. Birthdays are for gifts, and there's no better gift then free time! If you're planning a work birthday party, just have it before or after their special day.

3. Rotating trophy
Create a trophy that's recognized as a symbol of staff appreciation. Pass it around the workplace to employees who have accomplished something good, either each shift, day, or week!
4. Give out end of shift goodie bags
You know how parties or big events will sometimes give out goodie bags at the end? Why not do the same for your employees at the end of a random shift? It'll surprise them and brighten their day! Fill some goodie bags with candy, salty snacks, giftcards, etc., and hand them out at the end of each shift for a day. What's better than a random bag of goodies?
5. Celebrate daily wins
Sure, it's great to celebrate birthdays and big sales goals that are met. But what about small daily wins that often go unnoticed? Like employees completing all their tasks for the day, or side duties, or having a tough sale turn into success. When an employee accomplishes something seemingly small, but still significant, let them know they did a great job! Also let other employees know, because team recognition goes a long way.
6. Let them choose their next shift or whole schedule
This is a great way to let your employees feel empowered as a reward for doing well. It means one less employee for you to worry about scheduling. And the employee gets to be excited about choosing the exact days and times to work!
7. Wall of fame
Put up pictures of your whole staff to make a wall of fame. It may seem silly, but a little recognition does wonders. It's also a great way for employees who don't often work the same shifts to learn each other's names and faces!
8. Spontaneous treats
Treat your employees, because you appreciate them! Pick up pizza for lunch for no reason, leave cookies in the break room, it can be simple. Who doesn't like a little surprise on a random day?
9. Extra vacation time
Always encourage work life balance and taking time off when needed. No one should miss family vacations! Go the extra mile to show your employees appreciation and give out extra paid vacation days as a reward for high performance.
10. Plan a team retreat
Plan an annual team retreat to show appreciation to all your employees at once. It can be as big as flying everyone to a luxury resort to simply renting out a local country club or event center for team activities and dinner. This can be hard to coordinate, especially for restaurants or busy retail stores, but it's worth it! Big or small, a team retreat helps build a strong team and makes employees feel valued.
11. Shoutout on social media
If you have access to your company's Facebook, Twitter, Instagram, or LinkedIn - take advantage of it and recognize your employees online! Highlight who they are, what they've done, and why they add value to the company. This not only uplifts employees' moods, but allows customers to see how great your staff is too!
12. Employee of the month
Implement an employee of the month program and let your staff nominate each other! It's a great way to get everyone to participate.
13. Pizza parties
What says you appreciate your employees better than a pizza party in the break room? Do we really need to explain?
14. Give out non work related awards
You can get creative with this and give out funny, spirited awards! Like, "Always Brings Fanciest Lunch Award" or "Fashion Expert Award" or "Chatty Cathy Award". Remember the Dundie Awards in the Office? Yeah, kind of like that, but nicer.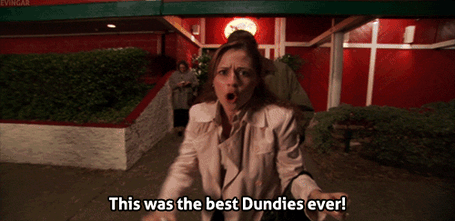 15. Start a suggestion box for team activities
The best way to show your employees appreciation is to let them have some input! Start a suggestion box for employees to drop in fun team activities and workplace ideas. Go through it every week and choose one of the suggestions to do.
16. Also have a suggestion box for shift related ideas/concerns
While we're talking about suggestion boxes, it's also a great idea to have one for shift related ideas, suggestions, or even concerns. This can give employees an anonymous way to express their feelings or ideas without having to be in the spotlight! It could also help uncover workplace problems and inefficiencies that need your managerial attention.
17. Mentoring program
A mentoring program helps experienced employees to feel important and new employees to feel more comfortable at work. Remember, the mentored will someday become the mentors! A mentoring program is an exciting way to show your staff you trust and appreciate them. It also helps employees get to know each other better and builds a strong team.
18. Track team wins
What goals do have every week? Do you have seperate employee positions or departments? Make some teams (or work as one big team) and track a goal - whether it be related to daily sales, or maybe the number of items sold. Use the classic print out thermometer or another visual to physically show the team progress on your chosen goal! As your employees keep climbing towards the goal, congratulate their hard work and remind them there'll be a reward for reaching it! Or if you have several teams, make it a competition and the first team to reach their goal gets the reward.
19. Use real thank you notes
We live in a digital world and traditional thank you notes are soon to be extinct. An actual piece of paper thanking an employee for hard work goes a long way in showing appreciation. It can be a quick post it note, or even a little certificate on their locker door! Thank you notes always brighten someone's day.
20. Celebrate work anniversaries
A study by Harvard Business Review found that employees tend to leave their jobs after about a year, with most quitting right on their one year anniversary. This trend continues for each work anniversary too. So, show your employees extra appreciation leading up to their anniversary with your company. Have hire date anniversary parties, reward the employee for staying, and get other employees involved! This recognition and validation could potentially keep your employees around longer.
21. Take employees out to lunch
An easy way to show employee appreciation is taking your staff out to lunch or having lunch catered in the break room! If you work in the restaurant industry, you could also have a family style lunch and make it in house. Everyone loves free food, but treating your employees to a nice lunch also allows everyone to get to know each other better. Strong teams have lunch together!
22. Help with commute
Depending on where you're located, you may have employees with a long commute, or employees that have to pay for parking. Of course it's not your job to handle transportation costs, but helping employees by paying for parking garage passes, bus tickets, or other travel expenses is a great way to show appreciation!
23. Create a staff appreciation holiday
Why not create your own holiday dedicated to employee appreciation? Some fun ideas include having a joke awards ceremony, a staff barbeque, or going to an amusement park! Whatever you choose, make it a day of the year that your employees always look forward to.
24. Recognize non work achievements
What do your employees do outside of work? Many probably have hobbies that include creativity, volunteering, and all sorts of other activities. Get to know what your employees are doing and share it with the rest of the team. Brag on them and recognize them for being not only great employees, but great people outside of work!
25. Boss for a day
Reward employees with the chance to be "boss" for a day. Let them sit in on your meetings, join you in your office, learn what you do day to day, use a prime parking spot, and experience any other perks managers at your company have. Let them be a part of staff meetings and decision making throughout a shift. This is a fun and unique reward to make work a little more fun!
26. Simply say THANK YOU
Can you remember the last time you simply said thank you to an employee? Some managers believe that employees are there to do their jobs and no thank yous are necessary. A thank you, whether the work is required or not, is the simplest way to show employee appreciation. Think about it, saying thank you won't hurt those who don't need to hear it to do a good job, but it will mean so much to those who do! Being a thankful manager leads to happier employees all around.
27. Decorate your break room
Be honest, would you be embarrassed if a customer walked into your break room? Is it dingy, dark, and has a smelly microwave? This room is to give your employees a break. Make sure it has nice furniture, appliances, and appealing decor. Have a system in place so everyone works to keep it clean and tidy. Make it a place employees actually want to spend time in (on their break). Think about making a mini library, a gamer station, or even have some board games ready. Have comfortable chairs and create a welcoming break room to get away from work and refresh! Your employees deserve it.
28. Give out company swag
Many companies have tee shirts, water bottles, stickers, pens, cups, and other items made for events. If yours doesn't, get some made yourself! Make sure you give out things that are useful for your employees - like travel water bottles and comfortable tee shirts.
29. Make it easy to volunteer
When you have employees interested in volunteering, make it easy for them to help others! Whether it means helping them start a food drive at work or letting them have a week off to build houses - encourage them. Show how you appreciate their concern about the world around you. A bonus is you can talk about what your business and employees are doing and let your customers know that doing business with you has a positive impact on the community!
30. Create memorable moments
Do you have an employee that goes above and beyond every shift? Maybe they're cleaning up after other employees because someone has to? Or maybe they naturally lead every shift because employees seem to come to them with questions? When you have employees that naturally do outstanding jobs, especially when it's outside of their job description, acknowledge them. Simply calling an employee into your office to say "I've noticed and appreciate what you do every shift" can mean so much! These small moments of acknowledging high performers shows great employee appreciation.
31. Give career based rewards
This type of reward is great for employees and will benefit your business too! Send employees to leadership trainings or let them choose an online class they'd like to take. Even if it's not directly related to their current position, you can show your employees you're invested in them and their career.
32. Party all the time
We've mentioned celebrating birthdays and holidays, but why not celebrate together, as a complete staff, for no reason? Holidays, staff meetings, sales goals, Thursdays, because it's five o'clock somewhere…. You get the point. Celebrations for non-obvious reasons are the most fun! Better yet, choose a day when your employees are struggling to get through the week. Maybe it's been extra slow? Liven things up with a little staff party and show your employees appreciation!
33. Put your employees on your website
Are there any employees on your website? Can customers get to know your employees before they show up to your business? It might not be feasible to put your whole staff on your website if you're a large company, but consider putting a fair number of employees on your website and letting them write their own bios! Or, have a spotlight section highlighting a different employee each month.
34. Give employees a choice and voice
Employee appreciation should be built into your culture. One way to do this is to give employees real choices and voices. Do your employees ever get to choose their own projects to work on? Or are they always assigned tasked? Do you actually listen to their ideas or concerns and take action? Or do you let things go in one ear and out the other and continue on as usual? You can give an employee a birthday gift card, but if they've come to you more than once with ideas or concerns and you've never taken action - the birthday gift card is a pretty empty gesture. Show employee appreciation at the foundation of your culture, and listen to your employees!
35. Offer long lunches
You know how hectic lunch breaks can be. Rewarding employees and showing appreciation could simply mean doubling their lunch break! This is such an easy yet impactful gift to give to high performing employees. Come on, they deserve an extra long break!
36. Encourage employees to spend time on hobbies
Showing interest in employees' lives outside of work is a great way to show employee appreciation! Give them gift cards to places that actually matter to them like certain bookstores, cafes, cookware stores, sporting good stores, etc. Figure out what they're interested in and how they spend their free time, then encourage them to continue pursuing their hobbies!
37. Stock up the breakroom
Is your break room empty and void of joy? Stock it up with sweet snacks, salty snacks, and water bottles! Let employees know everything is fair game, and you're stocking it FOR them.
38. Casual dress days
If your employees have to abide by a certain dress code every single day, think about letting them have a casual dress day once a week, if possible. Even once a month would be better than nothing!
39. Throw an end of year party
I'm sure you can tell that staff parties are a huge staple for employee appreciation. At the end of your financial year, show employees some love and throw them a party for being such valuable assets to your business! After all, your company couldn't function without it's employees.
40. Offer gym membership discounts
Promoting a healthy lifestyle is a great way to show employee appreciation. If you can, offering discounted or full gym memberships to employees is a great way to encourage healthy habits!
41. Turn employee appreciation day into a whole week
Did you know there's actually an unofficial holiday for Employee Appreciation? It's the first Friday in March! It's a day for companies to thank their employees for their constant hard work and effort throughout the year. So definitely celebrate this day, but why not make it whole week?! Show up with a special treat every day in the break room, have pizza lunch parties, or take your staff to the movies!
42. Plan a fun outing
Team potlucks and lunch parties are always fun and pretty easy to plan. But have you thought about changing things up and taking your employees on an outing like bowling or laser tag? It's such a fun way to show you appreciate them and their time!
43. Offer come in late or leave early coupons
For employees that work extra hard, give them a coupon offering the option to either come in late or leave early one shift (that is planned ahead of time). Of course, you'll need to find someone to cover that time, or do it yourself! This is a pretty simple and easy way to show your hard working employees appreciation.
44. Write a LinkedIn recommendation
Show how much you value your employees by writing them a recommendation on LinkedIn. This is a great way to recognize an employee for exceptional work as well as show them you're invested in their future!
45. Offer spotify premium or apple music subscription
Of course, this isn't always feasible with a budget. But, if you can offer employees spotify premium or apple music (or gift cards to go toward it), it's a unique way to show employee appreciation. If you play music throughout your business, it's also a great way to get employees more involved - let them make or contribute to your company's playlist!
46. Get employees personalized gifts
We've mentioned company swag, but another good way to show employee appreciation is getting personalized items made for your employees! Get stickers and travel cups monogrammed or personalized in some way and give them out to everyone, either during a staff party or better yet - for no reason! Surprise gifts are always the best.
47. Bring in a catered lunch spread for no reason
Celebrating your employees for no occasion other than appreciating them daily is the ultimate goal. Bring in a catered lunch to the break room for employees to enjoy on their breaks. Do it "just because" and it'll definitely brighten their day.
48. Host a fundraising event for a charity of your employees' choice
Do you have employees interested in certain charities? Having a fundraising event for a charity of their choosing is a great way to show you appreciate them and are invested in their happiness!
49. Employee gamification
Making games out of daily activities is a great way to liven up a shift and show employee appreciation. Either work as one big team or split up into smaller teams depending on how large your business is. See which team can sell the most of an item or who's the fastest at a certain daily task. Offer gift cards at the end of the week to the winning employees or teams!
50. Encourage actual work life balance and give employees the time off when they need it
This could be one of the most important ways to show employee appreciation. Working in a shift based industry, like restaurants or retail stores, can make it hard to have time off. Encourage real work life balance and, PLOT TWIST, actually give your employees time off when they need it! They shouldn't miss a family holiday because you're understaffed. Be prepared and make sure your employees aren't missing out on big life events because they're stuck at work!


Always remember - the best way to show employees appreciation is ensuring quality communication throughout all levels of your workplace.