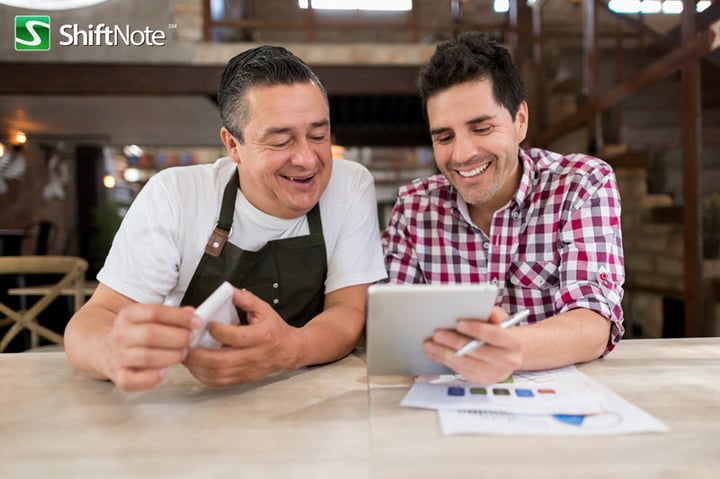 In today's restaurant operations, time is money. The best tools can save you both. Consider this the ultimate list of restaurant "hacks" – time-saving and cost-cutting resources that can bring a new level of efficiency to your operation.
5 Best Ways Today's POS Systems Streamline Operations
From restaurant tabletop tablets to "86 Countdown" alerts when inventory is low, today's best POS systems are efficiency engines.
1) Real-time Reports
No more waiting until the end of each shift to calculate sales. View sales data whenever – and wherever – you want with a POS system that includes cloud-based POS reporting. That means you can check real-time sales data remotely from a mobile device or computer.
Real-time sales data lets you streamline operations on the fly. Sluggish sales during lunch? Run a Facebook ad to pull in customers for dinner.
2) Tableside Processing
With wireless and cloud-based POS systems, your servers can take payments right at the table using mobile devices. This saves time for servers – and guests who are ready to leave.
3) Restaurant Tabletop Tablets
For even more operational efficiency, let guests order and pay for themselves on restaurant tabletop tablets. There's no need to wait for a server, guests check out when they're ready so tables turn faster. Orders are more accurate and go straight the kitchen.
Plus, restaurant tabletop tablets make payment more secure for guests with integrated EMV card readers (aka "chip" card readers). Self-checkout on restaurant tabletop tablets isn't just more secure, it's a way to build loyalty. A 2017 Accenture loyalty study showed that 85% of customers are more loyal to businesses that protect their financial data.
4) Floorplan Mapping
Easily adjust your floor plan from your POS system or one of your restaurant tabletop tablets. During dinner or lunch rush, you can see which sections are busiest, and can closely monitor service for those areas.
5) Menu Updates
Some POS systems even turn restaurant tabletop tablets into digital menus. Streamline the upselling process for your waitstaff, as restaurant tablets suggest extras and add-ons for each menu item. You'll also save the time and expense of printing paper menus. Made a typo? Have a new dish? No need to reprint, just make a quick digital edit on one of your restaurant tabletop tablets. Easy.
Save Time, Cut Costs with Smart Software and Apps
Most of these software solutions can be integrated with your existing POS system or restaurant tabletop tablets. Just check with your POS provider to see.
6) Manager's Log and Scheduling Software
Juggling 20 staff schedules and last-minute time off requests? Give yourself a break. New software programs like ShiftNote allow you to set up your staff schedule with ease. Keep all of your manager notes handy in the web-app while your team shares updates and reviews what happened in previous shifts. Like restaurant tabletop tablets, manager logbooks are designed to enhance your customer's experience and and help you staff efficiently.
7) Accounting Software
Accounting software like Quickbooks helps you track finances and cash flow in one place. Most POS systems (including restaurant tabletop tablets) integrate with Quickbooks – and send sales data to Quickbooks automatically. No need to waste time making a separate Excel document of sales data. Plus, when your numbers go directly from your POS to Quickbooks, accuracy increases (not that you EVER make an accounting mistake, right?).
Beverage Inventory Software
Software and apps like BevSpot make tracking inventory a breeze. Yes, just like every software product on this list, it can sync with your POS system and restaurant tabletop tablets to track inventory in real time. Set alerts to notify you on your phone when inventory is at risk of being 86'd.
3 Checklists and 1 Formula Used by the Most Efficient Restaurants
Checklists are more old school than your POS system or restaurant tabletop tablets. But you'll still see checklists being used at famous restaurants. Why? Because they work. Streamline operations the old-fashioned way…with checklists.
When orders come through your restaurant tabletop tablets and hit the rack, a kitchen prep checklist helps meals go out faster. This checklist outlines what food items are needed, how many are currently on hand, and more. Kitchen prep lists even save on food and labor costs: Your team won't waste time or money by prepping more food than what is needed.
9) Kitchen Inspection Checklist
Different from a prep list, this checklist ensures your crew is following key health and safety protocols in your kitchen. To build out a checklist, use these resources: the FDA, US Health Department, and your local and state health department.
Empower your managers with a list of essential tasks that must be completed on shift. Routine tasks may seem like second nature. But in the chaos of a dinner rush? Re-stocking the bathrooms with toilet paper might get overlooked (but not by guests! Hello, angry Yelp review).
Ideally, you want a manager checklist for 3 time periods: opening, shift change and closing. From setting out restaurant tabletop tablets at opening, to turning kitchen equipment off at close – a manager checklist will…well, keep you in check.
Take the guess work out of pricing your menu. Streamline the process by using a formula to uncover your food cost percentage. Then, apply that percentage to your entire menu.
Automated Marketing and On-Demand Fun
12) Entertainment
More than food and drinks, guests want an experience. So, serve up a side of fun by offering restaurant tabletop tablets. Loaded with arcade games and trivia challenges, these table top tablets bring everyone together for social fun. As guests play, they spend up to 21% more per table check according to an independent Arbitron study.
You can even use tablets to host a live trivia event. Yes, these are the same restaurant tabletop tablets that include digital order and payment. It's the ultimate all-in-one solution to streamline your business.
13) Loyalty
Say goodbye to plastic loyalty cards. Go mobile! When synched with your POS system, a mobile loyalty app can provide insane insights into customer behavior. Most importantly, guests want to use mobile restaurant loyalty apps: in a survey of over 27,000 guests by VISA, 57% said they'd prefer a mobile app. Find out how to design a great mobile loyalty program, here.
14) Email Capture
Want to build your email list…fast? Here are 2 tips to streamline your email capture efforts. First, use a 3rd party login software that requires guests to share their email address in exchange for using your free wi-fi. Second, set up an email capture pop-up at your website or on your restaurant tabletop tablets. Be sure to incentivize guests with a $5 coupon or reward for joining your email list.
15) Digital Signage
There's one more way restaurant tabletop tablets can streamline your operations…with on-tablet display ads that market your events and special offers. As an added bonus, restaurant tabletop tablets even turn your TVs into digital signage. You can set ads to run automatically by day or day part.
With so many apps and systems available today, streamlining operations is easier than ever. Not sure where to start? Focus on one thing: like a checklist or restaurant tabletop tablets. Next thing you know, you'll be running your restaurant without breaking a sweat.
About Aurthor
buzztime integrates trivia, card, sports games and live events with innovative tablet technology. Trusted by thousands of bars and restaurants in North America since 1984.